Earlier this fall, Fordham Law welcomed four new candidates into its prestigious Doctor of Juridicial Science (S.J.D.) degree program. These new students join 15 doctoral candidates who are continuing their studies
The new doctoral candidates received their primary legal education in Iceland, Saudi Arabia, South Africa, and Turkey. Their scholarly work ranges from a call for reform of the sponsorship system for foreign workers in the Gulf States to the corporate governance implications of inversion mergers; from rights-based claims to the city in India, South Africa, and Lain America to the finalization of arbitral awards in Turkey. The incoming S.J.D. students will be supervised by Associate Dean Nestor Davidson, Professor Jennifer Gordon, Professor Sean Griffith, and Professor Thomas Lee.
Meet them below.
Yusra Alshanqityi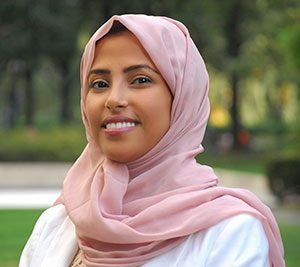 Yusra Alshanqityi was a legal intern at the African Services Committee in New York City where her work focused on immigration matters such as asylum and deferred action applications. She engaged in housing investigations at the Fair Housing Justice Center, which provides a full-service fair housing program for New York City and the seven surrounding counties. Alshanqityi worked as a research associate with the Consultative Assembly Counsel of Saudi Arabia on "Mapping Sexual and Reproductive Health and Rights Policies in the Arab World." She is the director and co-founder of The Forum for the Empowerment of Women in the Legal Profession: International Women in Law Inc., a not-for-profit organization based in New York City which aims to empower women in the legal profession and serves as a platform providing consultation and guidance to foreign lawyers.
After she received her LLB from King Abdulaziz University, Alshanqityi worked as a trainee lawyer at the Allied Law Firm in Jeddah. She received a dual-concentration LLM in International Law and Justice & International Dispute Resolution from Fordham Law School. Her S.J.D. research focuses on international labor law and immigration law.
Helga Audunsdóttir
Helga Audunsdóttir's entrée into Fordham Law School came approximately 1,300 miles south of New York City at the Law Without Walls ConPosium, a global legal innovation event held at the University of Miami School of Law. There she served as an academic mentor and worked with Professor Bruce Green. (Fordham Law 2L Carolina van der Mensbrugghe won this year's competition with a phone app designed to help public defenders better represent their clients at sentencing hearings.)
Law Without Walls placed Fordham on Audunsdóttir's radar. The strength of the Law School's corporate law faculty and specialization ultimately sold her.
Audunsdóttir, an Iceland native, taught corporate law and researched capital markets law at Bifrost University and obtained an LL.M. from the University of Miami School of Law prior to enrolling at Fordham Law.
Her dissertation on hedge fund activism will compare the U.S. and European legal systems, as well as how changes in the law affect hedge fund activity and how that influences shareholders and markets. The activism aspect refers to the ability for companies to manage hedge funds in a positive manner that create short- or long-term values prior to selling them. She credited Professor Sean J. Griffith with introducing hedge fund activism as an S.J.D. topic.
The intersection of finance and the law is an important one in Audunsdóttir's native Iceland. The 2008 economic crisis caused Iceland's three major privately held banks to default and subsequently triggered a severe depression and significant political turmoil.
"What happened with the Icelandic banking system increased how we observe the complexity of the system and the importance of the legal environment," she said.
Thomas Coggin
This month at the United Nations Habitat III conference in Quito, Ecuador, the New Urban Agenda, an action-oriented document that sets goals for sustainable urban development, is expected to pass. Thomas Coggin was one of 20 experts selected to take part in the project, based on his career focus on making cities more inclusive, an idea also known as the right to the city.
Coggin's dissertation will focus on rights-based claims to the city in his native South Africa, India, and either Colombia or Brazil—each of which has visible
spatial inequality illustrated by wealthy suburban areas abutting informal settlements. His research will draw upon work he previously did with the Socio-Economic Rights Institute, a South African public interest nongovernment organization, for developing rights to adequate housing in the country's constitution.
Coggin discovered Fordham's Urban Law Center years ago while investigating the prospect of studying urban law in the United States. However, his route to Fordham happened in an "astounding" fashion, only a short time after he sent an exploratory email this winter to Nisha Mistry, then executive director of the Urban Law Center.
At the beginning of April, Coggin had an apartment in Johannesburg with his partner, a faculty position at the University of the Witwatersrand (where he also received his LL.M.), and considered his life in South Africa's largest city settled. By month's end, Coggin had not only visited Fordham, where he met Nestor M. Davidson, associate dean for academic affairs and co-director of the Urban Law Center, but received acceptance into the S.J.D. program.
Obtaining an S.J.D. in the United States will not only open research doors, Coggin said, but will also help him better understand the challenges South African universities face, notably the exorbitant cost of education.
"This experience enables me to reflect on and use the work I've done so far, and hopefully the S.J.D. experience will allow me to improve my career going forward," he said, adding he would like to return to teaching when he completes the program.
Muhammet Karabiyik
Since Turkey adopted its international arbitration law in 2001, the need for adequate jurisprudence to guide practitioners both there and abroad has become apparent. Muhammet Karabiyik plans on providing such guidance with a comprehensive examination of how Turkish law finalizes its arbitral awards to assist both Turkish and foreign practitioners.
Karabiyik's dissertation will seek to draw procedural comparisons between arbitration in the United States, Turkey, and France—notably how arbitral awards are determined and how each handles the finalization process of international arbitral awards. He previously served as a judge, prosecutor, and attorney-at-law in his native Turkey and also as a legal consultant for World Bank in Washington, D.C.
Arbitration's universal nature, and the autonomy it provides, attracted Karabiyik to his chosen legal area. He previously obtained his LL.M. from American University Washington College of Law.
Prior to enrolling in the S.J.D. program, Karabiyik participated in Fordham Law School's Visiting Foreign Scholars and Research Fellows program, during which time he researched international arbitration laws of various countries and audited arbitration-related classes. The expertise and professionalism of Fordham Law professors and the Law School's state-of-the-art building and facilities were among the advantages that served as selling points, he said.