Each year, the Stein Scholars Program admits a few 1L students at the start of the spring semester. We are excited to introduce you to the newest members of the Stein Scholars family: Eartha Jn. Baptiste, Ruhi Behal, Jessie Boas, Diana Imbert, Ryan Partelow, and Leena Widdi, all members of the Class of 2019!
Eartha Jn. Baptiste: I am from the island of St. Lucia. I moved to the United States to pursue my post-secondary school education. I went to Kingsborough Community College at 16 and graduated with my associate degree in liberal arts. I then went on to obtain a bachelor's degree in psychology and sociology from Stony Brook University and CUNY Hunter College, respectively. While attending Hunter College, I worked as a residential counselor/independent living
specialist for three years at the Federation of Employment and Guidance Services. There I assisted 15 young-adult men who had developmental and mental disabilities. I provided case work, counseling, and advocacy services. For the past two years, I have been working at the Legal Aid Society as a paralegal II/case handler in the housing unit. I provide assistance in obtaining rent arrears from the Human Resource Administration and community-based organizations, representation at fair hearings, and resolution of case errors in regards to my clients' social welfare benefits. Being an evening division student, I have felt very limited in terms of having the opportunity to participate in school activities outside the classroom. I made a decision to intentionally pursue those which would accommodate my schedule and allow for the social, skill development, and networking opportunities that I desired. I joined the Consumer Law Advocates, and through that group, I volunteered at the weekly clinic run by the Civil Legal Advice and Resource Office during the winter intersession. I plan to return to this post during the summer intersession. The Stein Scholars Program has also given me another opportunity to meet and grow with like minds.
Ruhi Behal: I graduated from Stony Brook University in 2014 with a B.A. in English and political science. After graduating, I did research on Native American
rights with Judge Lizbeth Gonzalez (Bronx Supreme Court) and worked as a legal assistant at Seward & Kissel LLP. Most recently, I am involved with the Immigration Advocacy Project here at Fordham Law, and I participated in their service trip to Dilley, Texas, where I and other Fordham Law students worked with the CARA Project to assist women and children at the South Texas Family Residential Center, a federal detention center. As a result, I am interested in exploring issues in immigration and women's rights. Dilley was an incredible experience – I was able to learn more about asylum law and assist the women there with the beginning of their asylum process. Many of these women were from Guatemala, Honduras, and El Salvador and were escaping gang violence or persecution in their home countries. The resilience and strength these women showed after what they endured in their home country, the long and difficult journey to get to the U.S. border, and finally, civil detention are things that I will never forget.
Jessie Boas: After graduating from Cornell University in 2013, I volunteered as a health extension specialist with the Peace Corps for two years in the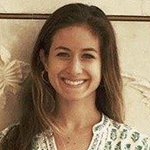 Dominican Republic and stayed in the DR for another year working with the National Commission for Human Rights. During these three years, I learned a tremendous amount about immigration and migration patterns. These experiences—working and living directly among marginalized and migrant Haitian communities—taught me about the social implications of immigration legislation. Migration, as it relates to national and individual economic livelihood and security, is a multi-faceted and large topic, and I hope to explore it to a great extent throughout my career. In the future, I want to have the skill set to effectively represent individuals and groups interested in furthering legal and social statuses. I am excited to reestablish a home base in New York at Fordham, and am thrilled to join the Stein Scholars community.
Diana Imbert: I graduated with a B.A. in biological anthropology and an M.A. in social policy from the University of Pennsylvania. While receiving my Master
of Arts, I taught middle school math and science in North Philadelphia and worked as a research project manager at the Abramson Cancer Center. After witnessing the school-to-prison pipeline first hand, I worked on awareness campaigns such as the Familiar Faces Against Mass Incarceration and The School to Prison Pipeline radio documentary. I have a deep interest in criminal justice reform, educational law, and immigration law. After law school, I hope to continue to work with marginalized communities to ensure equal access and protection under the law.
Ryan Partelow: I graduated from American University with a B.A. in political science in 2012. During college I worked as an environmental organizer with Clean Water Action. After graduation, I worked in Washington, D.C., as a client manager at a criminal
defense and personal injury law firm before joining Greenberg Traurig LLP as a legislative assistant. Since starting at Fordham Law, I became a board member and outreach committee co-chair of Fordham Law Advocates for Voter Rights and a board member of Fordham's chapter of If/When/How: Lawyering for Reproductive Justice. I am passionate about environmental justice and climate change, reproductive justice, and voting rights.
Leena Widdi: I graduated with a B.A. in international human rights and Middle Eastern studies from the CUNY Baccalaureate for
Unique and Interdisciplinary Studies Program in May 2015. Before starting law school, I worked as a legal intern at New York Legal Assistance Group's Family Law Unit. I have been a long-time student and community organizer in New York, particularly in the Palestine Solidarity Movement. I am currently a member of the National Students for Justice in Palestine Coordinating Committee and a founding member of NYC Students for Justice in Palestine. At Fordham, I am a member of the Immigration Refugee Assistance Project, and a steering member of the Coalition of Concerned Students. I chose to attend law school because, although I believe that the legal system is not the sole solution to dismantling structural inequality, it is an important tool that is disproportionately inaccessible to the most marginalized communities. I am particularly interested in criminal defense, immigration, and international human rights law. Upon graduating law school, I hope to remain a community organizer, but to use the law in any of these fields as an additional way to pursue institutional change.