Robin Lenhardt does not sit idly by in the face of inequality.
When minatory signs soliciting Ku Klux Klan membership appeared on the progressive Brown University campus in 1989, Robin Lenhardt approached the situation as an opportunity to demand curriculum changes and improved treatment for students of color and LGBT members of the community. A senior with aspirations of becoming an English professor, Lenhardt and several classmates brought the administration a "stack of demands."
The bold move not only resulted in changes designed to combat the outbreak of racial intolerance on the Ivy League campus but also led then Brown President Vartan Gregorian to encourage Lenhardt to reconsider her professional plans. Gregorian suggested to the budding civil rights activist that law school would be the best career course, and he even offered to write her a recommendation.
"You never know where speaking your mind will lead you," Lenhardt says of the transformational experience.
For Lenhardt, standing up for issues of race and inequality steered her to the Supreme Court as a clerk for Justice Stephen Breyer, the Department of Justice's Office of Legal Counsel, and ultimately to Fordham Law School, where, as a professor, she has produced notable scholarship on race and the family, overseen hiring and curriculum changes, and led the development of Fordham Law's Center on Race, Law and Justice.
Launched on February 29, the center represents a milestone in Lenhardt's distinguished career as a scholar and advocate for racial justice and an opportunity to continue to explore race and the law in new and meaningful ways.
"Throughout my career I have been committed to addressing issues of race and civil rights through scholarship and advocacy," Lenhardt says. "I have come to the point where I want to play a leadership role in helping shape conversations around issues of race and structural racism."
Early Motivators
While the law may have not always captivated Lenhardt, her commitment to racial equality has been a longtime concern, she says. Her father, Alfonso, who has led a distinguished career in the military and public sector, and mother, Jacqueline, a social worker, raised her and her two sisters to be socially conscious.
Her parents, both born in Harlem Hospital to very poor but strong families, encouraged their three daughters "to achieve, but to be attentive to ways you can create opportunities and address inequalities that impede the progress of others," Lenhardt says.
At Brown, Lenhardt heeded her parents' life lessons. Gregorian, now president of the Carnegie Corporation in New York City, recalls that—in the midst of the student protests after Lenhardt had transformed the nefarious campaign for KKK membership into a drive for minority rights—her "integrity, honesty, and zest for values-led causes" impressed him.
"Robin was a smart strategist," he says, noting she never compromised her beliefs. This positive interaction at a tense time on campus led Gregorian to become her academic adviser. He urged her to seek out ways to spark immediate action rather than engage only in theory. Lenhardt managed to incorporate both aspects into her advocacy: She worked for curriculum updates to highlight the scholarship of African Americans and other minorities, an early combination of theory and practice that still informs her work.
"Robin is extraordinarily talented," Gregorian says. "She's very honest. Hardworking. Anything she decides to do, she will do well. She's driven by a sense of history, decency, ethics, and justice."
Advocacy Forward
Lenhardt was "not totally sold" on a law career even after Gregorian and others suggested that it best suited her. However, a public policy internship with the Coro Foundation and later a job as an education policy advocate for which she organized protests to challenge public school budget cuts by City Hall convinced her that she could be a "more effective advocate" with a law degree.
At Harvard Law School in the early '90s she learned, to her surprise, that she enjoyed arguing, a discovery that would lead her toward working on litigation and government issues surrounding race. While at Harvard she obtained her law degree, cum laude, and a master's degree in public administration. She also played an active role in pushing for increased diversity, among both students and faculty, and served as editor of the Harvard Civil Rights Civil Liberties Law Review.
Professor Charles Ogletree Jr., a mentor who later founded Harvard Law's Charles Hamilton Houston Institute for Race and Justice, suggested she do a clerkship, which eventually led to one with Supreme Court Justice Stephen G. Breyer in 1996–1997. Prior to that, she clerked for Hugh H. Bownes of the U.S. Court of Appeals for the First Circuit.
To this day, Lenhardt considers her clerkship with Justice Breyer to be one of her career highlights.
"It gave me a great deal of confidence in our judicial system," she notes. "You might not always like the outcome of a particular Supreme Court case, but being on the inside and seeing how things get done gave me confidence in the care judges take in reaching the right results."
Justice Breyer recalls Lenhardt with fondness. "She's a very pleasant person, highly competent, and an excellent clerk," he says. "I loved having her in the chambers."
Litigating Inequality
Lenhardt earned a Skadden Fellowship after clerking and was an education staff attorney for the Lawyers' Committee on Civil Rights Under Law. In 1998, she moved to the Clinton administration's Office of Legal Counsel, a section of the Department of Justice dedicated to preparing legal opinions and advice for the White House, attorney general, and executive branch agencies. At the OLC, Lenhardt worked on a range of high-level legal issues but specialized in matters of race and civil rights. The move—from performing research in order to advance a judge's argument to applying theory around race and the Equal Protection Clause—proved "an easy transition," she says.
The OLC attracts people who are "superstars, the best and brightest young lawyers," says Georgetown Law School Dean William Michael Treanor, who was one of Lenhardt's supervisors at the governmental agency.
"Even in that group, Robin was a star," Treanor says, describing her as funny and outgoing in addition to being a great lawyer. "I was so impressed with her in every dimension. She was a brilliant lawyer, incredibly smart, and very thoughtful about the law, but she also had a deep commitment to justice."
Lenhardt's work at the OLC not only led her on a future course to Fordham Law School (after Treanor became the Law School's dean) but also had an impact on one of her future colleagues.
Fordham Law Professor Clare Huntington cites Lenhardt as one of the main reasons she worked at the OLC. They had previously become friends because both clerked for Justice Breyer on the Supreme Court, although during different terms.
"I trusted her," Huntington says. "If she took a certain path, it must have been a good path to take."
Huntington's respect for Lenhardt only grew during their time at the OLC. Huntington recalls Lenhardt being the "go-to junior attorney" for tough legal questions across a range of constitutional subjects, as well as her playing a critical role in the office's work surrounding civil rights and discrimination. Lenhardt's advice was "legally watertight but also practical," Huntington says.
In 2000, Lenhardt the left OLC to work at Wilmer Cutler & Pickering with then partner John Payton. While at the firm, she was part of the team that litigated the Grutter v. Bollinger and Gratz v. Bollinger affirmative action cases decided by the U.S. Supreme Court in 2003, which involved the University of Michigan's law school and undergraduate admissions policies, respectively. Payton, who became the head of the NAACP Legal Defense Fund before his death in 2012, served as lead attorney in the cases. Payton, whom Lenhardt describes as a "gifted lawyer and oralist" and beloved mentor, pulled together critical research from major social scientists addressing the role of race in society and within the context of higher education. "As a lawyer, I found it one of the most important experiences of my career development," she says of her time working alongside him at the firm.
After leaving Wilmer, Lenhardt transitioned to academia as a fellow and adjunct professor at Georgetown Law School (where she had obtained a Master of Laws), then as a lecturer at the University of Chicago in 2004, and finally as associate professor at Fordham Law later that same year.
Serious Scholar
Lenhardt first spoke with Treanor about becoming a law professor during their shared time at the OLC. When she decided to seek a full-time teaching job, she became the subject of heavy recruitment among law schools. Fordham's commitment to academic excellence and public service particularly appealed to her. She quickly made an impression.
"Even as a relatively young faculty member, she was a real leader of the School," Treanor says. Because of her leadership qualities, Treanor asked Lenhardt to chair the hiring committee, a responsibility Treanor calls the most important position at the Law School "in terms of shaping its future."
In her two years as hiring committee chair, Lenhardt oversaw the hiring of Huntington and Nestor Davidson (both of whom have since become associate deans) as well as Ethan Leib, James Brudney, Olivier Sylvain, Joseph Landau, and Carl Minzner.
"Robin's efforts at the School of Law have been, quite simply, transformational," says Joseph M. McShane, SJ, president of Fordham University. "Not only is she a superb teacher, she is also a talented scholar and supremely capable administrator. We are most fortunate to have her leading this new center that fits so well with the mission of the University and of our community."
Lenhardt's impact also included overseeing the introduction of upper-level concentrations into the curriculum. She has also co-convened conferences on race, family law, and critical theory; co-written papers with professors, including Jennifer Gordon and Sheila Foster; and developed new paths of study at the intersection of race and family law.
Professor Kimani Paul-Emile, who heads the Center on Race, Law and Justice's domestic initiatives, praises Lenhardt as an "exemplary institutional citizen" who manages to achieve greatness while displaying "kindness, generosity, and good humor."
Race Audit
These likable attributes do not mean Lenhardt is a wallflower when it comes to expressing herself, notes Professor Tanya Hernández, who leads the global initiatives of the Center on Race, Law and Justice. Lenhardt has been vocal about issues of access and opportunity at Fordham and outside its walls.
For instance, Lenhardt argues that the Supreme Court of Chief Justice John Roberts has not only proven less than sympathetic to race-based claims and adopted a norm of colorblindness but also has refused to consider legal remedies for issues of societal discrimination. Lenhardt's concept of a race audit, which she published in the Hastings Law Journal, looks at extrajudicial means to spur change.
Lenhardt wrote the article partly because she was interested in extrajudicial approaches to dismantling structural racism. "You can keep focusing on the Court or step back and reflect on other ways to conceive of equality on the ground," Lenhardt says. "The race audit harnesses the capacity of communities to be change agents in the struggle for racial justice. Rather than focusing only on the limitations of current Supreme Court race jurisprudence, it trains attention on the need for extrajudicial methods for equality innovation. It imagines communities of inquiry—everyday people alongside academics, lawyers, nonprofit leaders, grassroots organizers, clergy, etc.—capable of unmasking the structures and systems that perpetuate racial inequalities and laying the groundwork for beginning to address them."
She highlights two New Jersey cities—Newark, where she used to live, and South Orange, which she now calls home—as ones that would benefit from a community-driven audit to determine the reason for their borders' origins.
"The race audit is saying that, by doing this, you can surface new norms about what inequality means outside the court context" and address the root causes of structural racial inequality, she explains. "It may actually feed back into judicial analysis."
While rigid in many respects, the Court can be swayed by fact. Lenhardt highlights, as a reason for optimism, the Court's ruling to abolish the death penalty for juveniles when new information about the decision-making capabilities of a young person's brain became available. The race audit could lead to "different kinds of conversations about race, and inspire people to think about solving problems of race in a different way," she says.
Gordon, who has co-authored papers on race and immigration with Lenhardt, praises her colleague's race audit for leading inquiries that bridge jurisprudence and real- world realities to "improve conditions for real people on the ground."
"She's very creative and very interested in thinking across doctrinal boundaries and across substantive areas," Gordon says of Lenhardt, whom she calls an "ideal co-author."
"That's why I learn so much from her work," she adds.
Lenhardt also continues to advocate for racial justice in more direct legal ways, such as co-authoring briefs with the Court on both iterations of the Fisher v. UT-Austin affirmative action case.
Lenhardt's ability to communicate effectively on race, and use various means to do so, made a lasting impression on Hernández many years ago when they first spoke in Uruguay at a follow-up to the World Conference Against Racism. This skill set is also why Hernández believes Lenhardt will excel as faculty director of the Center on Race, Law and Justice.
"What struck me then and continues to impress me is the great facility she has to talk about race easily with all kinds of different people," Hernández says. "Regardless of what particular perspectives and resistance she encounters, she has a calm and thoughtful way of approaching matters that makes her an ideal leader for the center."
Family Matters
Lenhardt's scholarship also addresses and challenges conventional wisdom on race and the family. The institution of marriage, for example, is widely viewed as citizenship-enhancing, but Lenhardt questions this assertion, particularly as it relates to African Americans. Her study in this area highlights how family law systems and structures advance colorblindness in ways that are not always appreciated.
"Part of my work is about breaking down stereotypes, but it's also about validating alternative frames for loving and conducting one's family," she explains.
Lenhardt has written about a stigma in the African-American community that affects families living outside marriage and undercuts the value of such nontraditional family arrangements. There should be more emphasis on supporting rather than critiquing and pathologizing these family units, she argues.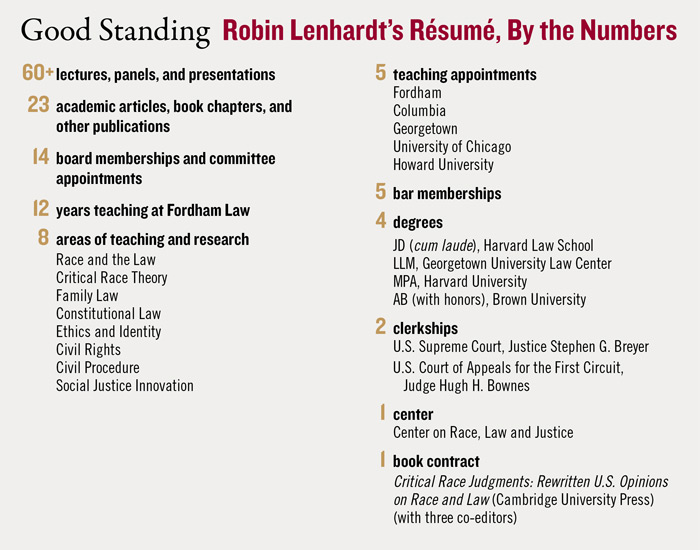 She highlights the example of her grandmothers, who raised her parents out of poverty and provided them the tools for future success. The lessons of their upbringing and her own have, in some ways, fueled her work.
"It makes me attuned to the privileges I've had but also curious about the ways we might support families who don't have the benefit of two incomes, or higher incomes," she says.
This idea is at the heart of a symposium Lenhardt and Huntington are planning for the 40th anniversary of the Moore v. City of East Cleveland Supreme Court case. Lenhardt also formed the idea to have the Fordham Law Review host a symposium commemorating the Obergefell v. Hodges marriage equality ruling.
Huntington describes Lenhardt as "a generous collaborator" and "very good at knowing which people to bring to the table to have an engaging, thought-provoking, and ball-advancing conversation."
"She's the whole package," Huntington says.
Doing What's Important
On the first day of classes this spring semester, Lenhardt discussed the two-centuries-old Supreme Court ruling in Marbury v. Madison with her students to lay the foundation for their discussions about constitutional law. Oftentimes, to introduce her students to the legal matters at issue in a particular course, she will play music. (When her class discussed issues of gender in the Equal Protection context, they listened to the Eurythmics/Aretha Franklin duet "Sisters Are Doin' It for Themselves.") She also regularly tries to provide unique sets of readings and supplemental materials. In a previous civil procedure class, she started with the Court's 2003 decision in the Grutter v. Bollinger affirmative action case, which utilized the tools in civil procedure to advocate for clients.
Lenhardt has also taught seminars on Law and Race in which she has utilized nonlegal sources, including video clips and memoirs, to highlight how the law informs the ways we think about race, how race is experienced, and how the law creates inequality in society.
"Law school can feel divorced from the real world for some students," she says. "I try to give them a way to understand it from my own personal experience."
Lenhardt's class stands out because it offers free-flowing discussion of the law in which she imparts her experience in various legal arenas and her knowledge of relevant case law, according to John Minor, president of the Fordham chapter of Black Law Students Association.
"It was a very holistic look at race and the law," says Minor, who took her class in the fall of 2015. "It allows students to be themselves but also helps guide students to an end point so they come away with something concrete on why the system is what it is."
Lenhardt's ability to impart her voluminous wisdom with students makes her "a treasure to Fordham Law School," Minor adds. "Hopefully her platform and profile will be raised by this center. People need to know about her."
Lenhardt says her focus remains the same as it was when she was a Brown undergrad: to stand up for equality no matter how uncomfortable it may make others. She encourages her law students to do the same. After all, you never know where it could lead.
"I tell my students to always do what you love and don't worry about whether people are going to like it," Lenhardt says. "Many of my opportunities came when I was saying things I thought were important, even though people wouldn't like it. The people I spoke to said, 'I don't mind what you're saying, and I want to help you.'"