This summer, members of Fordham Law School's Stein Scholars program will promote the public good and advance their legal aptitude with domestic and international externships in a wide variety of fields including women's rights, LGBT housing issues, and labor and immigration law.
Stein Scholars, a student-driven academic and service program, encourages students to maintain their commitment to, and prepares them for, the practice of law in service to the public through specialized academic requirements, summer externships, interaction with practitioners and academics, and opportunities to engage in community service.
Below is a sampling of what some of the Stein Scholars will be doing this summer.
DeAnna Baumle – ACLU Women's Rights Project
Over the past two summers, DeAnna Baumle's externships with Day One, a nonprofit that provides legal and social services to young survivors of intimate partner violence, and the National Institute for Reproductive Health have centered around direct services or larger policy issues. This summer, Baumle, who is in Fordham's four-year M.S.W./J.D. dual degree program, will branch out toward a new legal area, impact litigation, with the ACLU Women's Rights Project.
"Impact litigation is very different, for instance, than representing one person in order to help them get an order of protection," Baumle said. "Instead you're representing a person who's suing a workplace for gender discrimination—and the effects of that litigation will affect anybody who's been subject to any similar discrimination. So impact litigation basically changes the law through the case."
Baumle will receive her Master of Social Work this month, and then have one year of law school remaining. She described learning about and studying the intersection of these two disciplines simultaneously as "incredibly difficult" but also "incredibly rewarding."
Without the Stein Scholars program, she doubted she would have navigated the two programs so well.
"Having that sense of community, particularly in law school when a lot of the focus tends to be more on corporate law or Big Law—having that support and being able to learn from all the amazing students in the Stein Scholars Program has been an incredible experience," Baumle said.
Frank Kearl – ProDESC in Mexico City
Frank Kearl's summer externship journey started, unbeknownst to him, when his Immigration Law professor, Jennifer Gordon, inquired about his summer plans. Kearl replied, among other possibilities, that he might head south to Mexico City, a metropolitan city whose art, food, and landscape impressed him some years earlier. Upon hearing this, Gordon revealed she had a contact there.
As a result of this connection, Kearl will work on immigration and labor law issues for ProDESC, an economic and social rights group that does labor organizing among Mexican mine workers and Mexican nationals who obtain non-immigrant visas to work in the United States.
"This summer will provide me a great chance to receive hands-on experience with international labor law and labor organizing from people doing incredible work down there," Kearl said. That work will be relevant when he returns to New York, he noted, because the populations he'll work with in Mexico City are also present in the United States. Plus, by then he expects to have dramatically improved his Spanish language skills.
Kearl saluted the Stein Scholars program for affording him outlets to explore non-traditional ways to apply his skills and highlighted the work of Fordham's "world-class faculty," such as Gordon and Professor Gemma Solimene, on immigration issues.
"Being able to work with people doing creative things is inspiring and makes me feel better about what other people might perceive as a risk, going to a city I don't intend to live in," Kearl said, adding his time with ProDESC will "get me closer to the goals I want to achieve with this degree."
Rachel Manning – NYS Dept. of Environmental Conservation
Choosing between a federal or state agency can be a vexing one for students as they pursue externship opportunities. That was not the case, however, for Rachel Manning as she evaluated policy positions in environmental law this summer.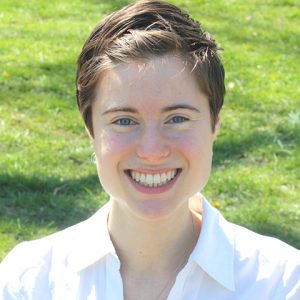 The Trump administration's anti-environment platform made an Environmental Protection Agency internship an unpredictable, if not discouraging, gambit. This situation made working at the state level particularly appealing to Manning.
"It's an empowering time to work at the state level," Manning said. "New York has a pretty strong commitment to environmental issues, and I will have an opportunity to work with people who have dedicated their career to upholding laws that protect the environment and people."
This summer, Manning will enter the policy realm for the first time, learning up-close how regulations are enforced. Her previous work at Mount Sinai Hospital and the Institute for Family Health centered around nonprofit work focusing on environmental and public health issues.
Manning credited the Stein Scholars program and Andrew Chapin, director of counseling and public interest scholars at Fordham Law's Public Interest Resource Center, for providing her the "individualized attention" necessary to land her externship.
Isedua Oribhabor – Ella Baker Fellowship at Center for Constitutional Rights
In 2001, Isedua Oribhabor, then a young girl, emigrated from Nigeria, with her family of six, to Missouri. Years later, that experience and subsequent Fordham Law experiences with the Stein Scholars and as a Crowley Scholar with the Leitner Center have compelled her to use her legal knowledge to fight for immigrants, refugees, and asylum seekers—especially in a political climate where they are shunned or, worse, imprisoned.
"It would be completely absurd for me not to care about immigrant's rights, because I benefitted from a system that helped my family," Oribhabor said, noting her family were not refugees. "The idea that I would not take advantage of a chance to do something about it is inconceivable."
Oribhabor hopes to receive practical training on a variety of contemporary issues this summer as the Ella Baker Internship at the Center for Constitutional Rights, a progressive nonprofit that bills itself as being "on the front lines for social justice." Oribhabor's initial interest in CCR, she recalled, resulted from Professor Joseph Landau's Emergency and the Rule of Law course, which discussed the organization's role in Guantanamo litigation.
Law school has expanded Oribhabor's interests from domestic to both domestic and international, the former social worker said.
"As someone who came into law school knowing I wanted to do public interest work, being with other like-minded students in the Stein Scholars program has been a great source of support and a resource to help me find work in public interest," Oribhabor said.
Johanna Sanders – Brooklyn Legal Services, LGBTQ/HIV Advocacy Project
Raised in Forest Hills, Queens, Johanna Sanders has observed New York's housing prices skyrocket over the past two decades and the way they changed the city and impacted its residents, often in negative ways. In particular, Sanders, a lesbian, became aware of how these changes specifically affected the LGBTQ community, and
vowed to make a difference.
This summer, Sanders will extern at Brooklyn Legal Services, where she will work with the LGBTQ community on a variety of direct service projects. The experience, she hopes, will put her first-year legal education into practice and produce positive outcomes for people experiencing difficulties finding or keeping affordable housing due to their sexual orientation or gender identity.
"It's really important to have specific resources targeted at the LGBTQ community," Sanders said, noting this includes informing people of their rights with landlords. "There's a tremendous amount of discrimination with LGBTQ tenants, and a lot of these people don't know where to turn."
Sanders took three years off between undergrad and law school on LGBTQ issues in New York and abroad in South Africa and Australia. Those experiences heightened her knowledge about herself and her LGBTQ community, and she hopes her time at Brooklyn Legal Services will do the same.
"Within the LGBTQ realm, there's so much to learn, in terms of what I want to work on," Sanders said, adding that adoption and surrogacy issues are other areas of interest. "I am excited to learn this summer and take this knowledge with me into my second year of law school."