Five Stein graduates—Jessica Rose '01, Michael Haber '05, Kelsey Ripper '13, Rodrigo Ricxu Bacus '16, and Gowri Krishna '06—share their thoughts on what makes community economic development (CED) lawyering so rewarding.
---
Jessica Rose '01
Director, Brooklyn Legal Services Corporation A's CED Program
Why did you decide to focus on this sort of work?
I went to law school knowing I wanted to become a public interest lawyer so that I could bring legal tools to community-based organizations and organizing efforts.
Prior to law school, I worked as a paralegal in the civil division of The Legal Aid Society supporting the housing and government benefits teams, as well as citywide immigration efforts. During my 1L summer, I was an Ella Baker Intern at the Center for Constitutional Rights (CCR), where I focused on international human rights and domestic civil rights issues. I was grateful (and inspired) to have worked at The Legal Aid Society and CCR, but those experiences helped me realize that I wanted to practice in the world of transactional law. That idea was further cemented when I enrolled in the Community Economic Development Clinic at Fordham Law during the clinic's inaugural year.
What has been the most rewarding aspect of your work? The most challenging?
The most rewarding aspect of CED lawyering is that I get to see tangible, brick-and-mortar results. I can walk through any of the neighborhoods that we serve and see affordable housing units, child care co-ops, and community health care clinics—all of which we played a role in creating. As a result of the work that we do, vital community infrastructure has been built and sustained, and communities are being invested in and served. This type of legal work offers a rare opportunity to have a proactive, positive and long-lasting impact on people's day-to-day lives.
There are two primary challenges to the efforts we undertake. First, the way we engage in CED at Brooklyn A is to partner with our clients and to be as creative and aggressive as possible in implementing their vision and accomplishing their goals. Community control guides the decision-making process and is integral to the work we do. We try to bring the community's voice—a voice that has traditionally been marginalized—into decisions about housing, public health care, education, etc. and by doing that, we ensure that folks recognize the expertise of our clients. The challenge arises because many of the stakeholders we encounter are resistant to this type of model.
An example of how our CED work is driven by the needs and vision of our clients took place 10 years ago, when we developed and launched the Green Building Law and Justice Project, in response to a number of clients who wanted to integrate green design and construction into sustainable development work. We, as lawyers, had to educate ourselves and figure out how to structure these types of projects and contracts. The work then evolved to meet the needs of one of our long-term CED clients, Cypress Hills Local Development Corporation, Inc. as it developed and launched its Cypress Hills Verde Initiative. The Cypress Hills Verde Initiative is a multifaceted, holistic program that includes the development of green buildings; access to healthy food and gardens; expansion of open space; and comprehensive community infrastructure planning. A multi-tiered planning process led by the client resulted in multiple strategic partnerships and dozens of different projects. Part of our job as general counsel to CHLDC on this initiative has been to figure out how to best support their goals, while mitigating risk.
The second challenge has to do with resources. The demand for our services always outweighs the staffing capacities of our CED program. We wish we could support all of the projects that are proposed to our unit. The workload is intense, and the demand for our services is greater than we can meet, so we must constantly struggle to find the right balance.
What are your primary areas of responsibility?
I am the director of the program, so in addition to representing our clients and collaborating with project team members, I supervise the CED staff attorneys, externs, and law student interns. We approach each matter from a collaborative framework, whether we are helping a small startup to incorporate or representing a client on a new market tax credit financing. An additional area of responsibility stems from being a member of Brooklyn A's senior management team. In that role, I help support the organization's growth, interact with board members and other stakeholders, such as funders and elected officials, and play a part in the overall management of the organization. 
Has the work changed over time?
It is always evolving. Our clients are nonprofits. Their funding sources are ever-changing, so we have to adjust to that. For example, for a long time, a primary way of funding affordable housing was the federal low income housing tax credit program, and funding community-based health care center expansion was bond financing. So we gained expertise in those areas, and now there has been a growth in the use of new markets tax credits, so we have expanded our area of expertise to include that financing mechanism. The types of tools change as the market changes, and we must be responsive.
In addition, shifts in socioeconomic trends coupled with the realities of the physical environment can have an impact on our work. For example, at one point in time, a significant amount of publicly owned land became available, because the city took ownership of lots being abandoned by landlords, via in rem foreclosure proceedings and then transferred ownership to for-profit and nonprofit developers of affordable housing. That was a major pipeline for nonprofit housing developers. With the upturn in the economy and the disposition of a large quantity of these previously city-owned lands, however, land is now much scarcer in New York City. There is no longer an economic incentive for landlords to abandon property. Instead, landlords are holding on to the properties, which in turn places pressure on tenants. More and more of our clients are having to look to develop private land, which represents a major shift in the practice.
Any reflections from your time in the Stein Scholars Program?
The Stein Scholars Program was a unique and wonderful affirmation of my commitment to do public interest work. It helped me create a community within the Law School of like-minded peers. The connections I made while in the Stein Scholars Program have continued to this day. In fact, many of my classmates are working in the public interest and government sectors, which is not only rewarding, but perpetuates a sense of community and the desire to continuously give back to the program.
Have you taken any steps to avoid burnout?
If you are a public interest lawyer, burnout can be a risk of the job, though establishing a work-life balance means different things to different people. To avoid burnout, I think attorneys must decide what balance they want to strike and then establish those boundaries. Having colleagues you enjoy working with, being part of a supportive team, and partnering with the right types of clients all contribute to minimizing burnout. I often tell young attorneys that no one sets limits for you. If you take on a lot of work and you seem OK, no one will intervene. You must assert your own boundaries. Draw a line and respect it, and others will too. Sometimes an emergency requires all hands on deck, but otherwise it is important to remember that this type of work is a marathon, not a sprint.
I want to conclude by putting in a plug for CED work. It is an ever-growing segment of public interest law practice, and it is a unique way to be a public interest attorney. You get to be a creative, affirmative, pro-active responder to societal problems, while simultaneously supporting nonprofit organizations and community efforts. You could talk to 10 different CED attorneys and each one will be doing something different, so it also lends itself to practicing creatively.
---
Michael Haber '05
Associate Clinical Professor of Law, Hofstra Law School
I direct Hofstra's CED clinic and co-direct our Entrepreneurship and Intellectual Property (EIP) Clinical Practicum. I have practiced CED law since graduating in 2005, first at Brooklyn Legal Services Corp. A from 2005 to 2011, and then at Hofstra since 2011.
In the CED clinic, we represent 25–35 nonprofits each semester, plus a handful of worker-owned cooperatives, social enterprises, advocacy coalitions, and other groups. In the EIP clinic, we represent 10–15 startup businesses each semester; the majority of these entities are either social enterprises or microenterprises whose businesses would provide some benefit to low-income communities or communities of color. Broadly speaking, our cases across these two clinics fall in four categories:
Startup corporate and transactional work – Helping new nonprofits, worker co-ops, social enterprises, microenterprises, and other entities structure their organizations or companies, choose corporate entities, and apply for tax exemption or negotiate and structure corporate finance terms
Real estate work – Helping both traditional community development corporations and community land trusts finance and develop affordable housing
Collaborative "community lawyering" work with advocacy organizations, community organizing groups, and coalitions of community groups – Helping our clients understand the details of current laws and helping to support their organizing campaigns through legal research, policy writing and advocacy, and, less commonly, legislative drafting and litigation
General corporate work – Working with our largely nonprofit client base on corporate and regulatory compliance, general contract drafting and negotiation, employment law, intellectual property, and other areas of law
Both my practice and my approach to teaching are rooted in a political commitment to using the clinic as a tool to support grassroots groups, low-income communities, communities of color, and social change movements. While we strive to concentrate our efforts on projects that are likely to have a meaningful impact, we also try to remember that our role is instrumental—limited to helping our clients realize their own visions for how to bring about community and social change.
Our community lawyering clients and partners in the CED clinic include many of the larger community-organizing groups working on Long Island, as well as a number of community-organizing groups based in Brooklyn and Queens. We work with them especially around issues related to fair and affordable housing, land use, and development. Since the Occupy Movement, we have also dedicated a substantial part of our practice to working with community-based organizations and worker co-ops emerging out of the anti-authoritarian activist frameworks embraced by Occupy and, more recently, by parts of the Movement for Black Lives. Finally, we always work with around 5–10 small startup nonprofits that help keep us connected to new community projects and that are valuable learning experiences for third-year students before they move on to more challenging client matters.
Outside of my work in the clinic, I am involved in other community and activist projects. I serve on the boards of directors or advisory boards of a number of activist and nonprofit groups around the region—typically for former clients—and I try to give presentations related to CED to both legal/academic and activist audiences. My 2016 article, "CED After #OWS: From Community Economic Development to Anti-Authoritarian Community Counter-Institutions," was published in the Fordham Urban Law Journal and is available on SSRN.
---
Kelsey Ripper '13
Director, Microenterprise Project, Volunteer of Legal Service
I've always been interested in how we can better create and support equitable and sustainable communities. When I came to law school, I saw that CED was a way to use the law to do just that. CED practitioners support this goal by providing legal assistance to community-based organizations and small businesses so that they may
further the economic stability of their communities. Lawyers also have a place in helping nonprofit organizations develop more sustainable practices and supporting nonprofits that are addressing environmental health and environmental justice issues. My postgraduate Equal Justice Works Fellowship gave me an amazing opportunity to work closely with these types of organizations, and particularly urban farms and food access nonprofits that are rethinking how we feed cities, use green space, and teach each other about the food system.
Meeting clients and hearing their stories has always been the most interesting part of the work for me. The people I meet develop their business and nonprofit ideas from their own experiences and they have a drive and abundant energy to carry out their vision. Seeing that is often what keeps me going. Working with volunteer attorneys has also been a (maybe surprisingly) fun part of the job. They are excited to work with our clients and despite working very long hours they still find time to do pro bono work, because they also see the value in providing these types of legal services.
During and right after law school my focus was on providing transactional support to nonprofit organizations, but with my position at Volunteer of Legal Service, my focus has changed to for-profit businesses. They both are important to community economic development, but the client's goals are sometimes different. This difference has meant that I needed to rethink how I can best support my clients. I am also now responsible for more program management than in the past. I continue to provide legal services, but I also write grants, develop educational programming, and make sure the program as a whole is running smoothly. Having a wide range of responsibilities has meant learning many new skills, and it's given me a greater appreciation for what it is like for clients who are running nonprofit organizations and small businesses.
I have noticed recently that in some ways CED is siloed from other practice areas, especially immigration. But with the current political climate and the attack on immigrant communities, it is impossible for the CED community to continue to serve nonprofit organizations and small businesses in New York City without looking at the intersection of these two areas. Increased deportations mean nonprofits will have to reallocate resources to serve their constituencies, and, as lawyers, we need to be ready to help them in any way we can. For business owners, it means more uncertainty when it comes to hiring, as well as the need to deal with the effects of deportation on owners and employees. CED practitioners have an important role to play in supporting these organizations and businesses.
The Stein Scholars alumni network had a significant impact on my career path and choices. Just a few weeks ago I went to a community economic development network meeting that brought together CED practitioners from around the city. The network was created by two Stein alumni—Gowri Krishna and Mike Haber—and the room was full of Stein and Fordham alumni. I was impressed by how many Steins were at the table. It is a testament to the Stein Scholars Program and the Fordham Community Economic Development Clinic that so many of us are doing this work.
---
Rodrigo Bacus '16 and Gowri Krishna '06 work in the Community Development Project (CDP) at the Urban Justice Center, a legal services organization in New York City. Through community lawyering, CDP aims to dismantle racial, economic, and social oppression by supporting the leadership and organizing of grassroots and community-based organizations. CDP's community economic development team focuses on technical assistance to help communities build power and develop leadership, with a focus on issues such as immigrant rights, housing rights, anti-gentrification and neighborhood change, consumer justice, and workers' rights.
Rodrigo Bacus '16
Law Graduate, Urban Justice Center, Community Development Project, Technical Assistance and Capacity-Building
As a member of the capacity building team at CDP, I work primarily with fellow migrants who are seeking to form worker cooperatives, build power, and develop leadership so that they can help end the patterns of oppression that directly impact our communities. One of those patterns is directly tied to discrimination and stolen opportunities when it comes to finding work, building wealth, and providing for family and community.
I find myself immersed in the work that we do supporting the movements of migrant communities, because I am a migrant myself. I migrated from the Philippines when I was 13 years old and my family's story of forced migration starts even earlier than that. Looking for a way to feed a family of four children in the Philippines, my mother migrated by herself to the United States when I was a child to work as a nurse. She gave up being a university professor and her dream as a future doctor. The decade following was a painful separation for the whole family as we struggled to reunite. We hoped that in time our heartache would turn into joy and that our sacrifice would be worth it. What I know now is that my family represents 6 people of the millions who share this experience.
About 7,000 people leave the Philippines every day looking for work. In many countries around the world, migrants face similar circumstances—exploitative policies, war, and environmental destruction—all of which benefit the very few at the expense of the people who are forced to flee. These attacks on human rights and human dignity do not end when a person leaves his/her home country, but the injustices continue wherever the migrants go. The system of oppression that directly impacts migrants is a destructive cycle that feeds itself—forced migration due to neoliberal policies, which then results in continued labor exploitation. Faced with difficulties of such magnitude, one wonders how an individual can effectively tackle such complicated problems.
This is a task that CDP's community lawyers, in partnership with community-based and grassroots organizations, take on with gusto and creativity. Some of CDP's partners, such as La Colmena and Damayan Migrant Workers Association, are composed of migrant workers whose very experiences reflect different facets of forced migration and labor exploitation. Migrant workers fight for the enforcement of labor rights for people directly impacted every day. These are labor rights that some of us might take for granted, such as being paid fairly for our labor or having the freedom to rest and spend time with family.
My work in the capacity building team is a humble yet innovative contribution to the overall movement and struggle of migrant workers. For migrant workers, forming a worker cooperative gives them potential to be in control of the business where they work. This means workers can potentially control working conditions, wages and benefits, and interactions with immigration enforcement. Worker cooperatives also give workers the ability to be involved in a democratic and collective environment, where each person has a say and the roles, objectives, and vision of the business are shared and decided by the group. Worker cooperatives give workers another avenue to use collective action to push back against unjust laws, exploitative situations, and oppressive systems.
I continue to reflect on the work I do with the lens I developed while I was a Stein Scholar and active Public Interest Resource Center member. Mentors like Hillary Exter saw my capacity for social justice work and activism when others refused to do so and encouraged me to join the Stein community, where I met fellow activists Razeen Zaman '16 and Leeanne Cunningham '16. Professors Jennifer Gordon, Chi Mgbako, Elizabeth Cooper, and Brian Glick actively played a role in the Stein mentors program, thereby supporting our struggle to become legal advocates, even when we doubted ourselves. Leah Horowitz and Tom Schoenherr were invaluable guides, as we forged forward from law school to the legal advocacy that we do now. I deeply appreciate every person in this collective, pulling each other up and making room for directly impacted people, who forge the pathways forward.
Gowri Krishna '06
Supervising Attorney, Urban Justice Center, Community Development Project, Technical Assistance and Capacity-Building
I began my legal career as a staff attorney in CDP just over ten years ago. After my 1L and 2L summer internships, I knew that I did not want to do litigation and had a sense that I would enjoy transactional work instead. Through Professor Brian Glick's encouragement and mentorship, I was able to find my passion in transactional community lawyering. CDP's model of supporting community-organizing groups allowed me to have a larger impact through transactional work. The work we do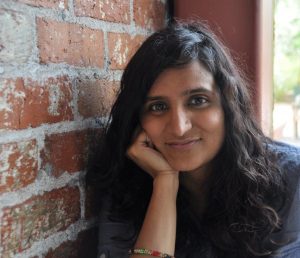 supports further efforts for economic, racial, and social justice.
At CDP, I started working with groups of immigrant women looking to form worker cooperatives. The legal questions centered on the intersection of immigration, employment, tax, and corporate laws. I soon realized that there were no clear answers to the questions posed and that we were blazing new trails with the work we were doing. Now, a decade later, there are a greater number of lawyers (like Rodrigo!) building on the past work, helping grow the field, and push for changes that will benefit the communities with which we work.
I work primarily with Spanish-speaking groups, but three years in, I was not speaking Spanish myself. One of the highlights of my career has been taking a 3-month, CDP-permitted sabbatical to learn the language so that I could better serve my clients. I spent my time in Oaxaca and Chiapas, Mexico. The time away was magical, and though I came back far from fluent, I developed a closer connection with my clients.
I left CDP in 2010 to pursue clinical teaching. I taught with Professor Glick for two years in the Community Economic Development Clinic at Fordham then went on to the University of Michigan where I taught their CED clinic for a year before moving to Rhode Island to start a CED clinic at Roger Williams University School of Law. Clinic teaching let me continue working with clients while also providing me with an opportunity to teach critical lawyering skills to aspiring attorneys. I decided to come back to New York City upon my maternity leave from Roger Williams and lined up a position back in CDP as a supervising attorney, where I am now.
CED work draws upon a number of different areas of the law, making it an exciting and challenging area in which to work. It tends to be less adversarial than litigation, and the nature of the clients is often different in that they are coming to you with ideas for how to positively affect their communities—and you get to help them make that happen!