Dubai
After months of deliberation, hard work, and preparation among Fordham Law graduates and School representatives, the FLAA Middle East chapter was launched on November 8, 2016 with Assistant Dean Vera Bullock's visit to Dubai. During her trip, Dean Bullock met with many Fordham Law alumni from different generations and nationalities; she also visited top law schools in Dubai to strengthen the School's network in the UAE and discuss possible partnerships and collaborations.
This year, Dean Matthew Diller will be in Dubai in November to sign a memorandum of understanding with Université Saint Joseph in Dubai, a leading Jesuit law school in the Middle East. Susan Scafidi, director of the Fashion Law Institute at Fordham Law, will also be in Dubai, on November 13, to speak to leading figures in the fashion industry about the institute's work at the Dubai Design District.
The FLAA Middle East chapter is part of the larger FLAA European chapter. I had the privilege to be in Barcelona as part of the European chapter in June 2017 and to reconnect with old classmates and meet new alumni. The experience of alumni flying from all over the world to spend a weekend together to network and discuss new EU regulations, including general data protection regulation, is proof that the Fordham alumni network has a strong and global reach. Likewise, the FLAA Middle East chapter aims at providing a network for any alumni of Fordham Law School. To get in touch please contact me.
Sara Maroun LL.M. '13, Associate Lawyer, MBC Group
---
Israel
Fordham's Israel chapter held its very first event on November 17, 2016, welcoming Dean Matthew Diller and Assistant Dean Vera Bullock. The Tel Aviv event was well attended by Israeli alumni, including judges, professors, members of in-house counsel, and attorneys from Israel's leading law firms. It served as a great launching point for Fordham Israel.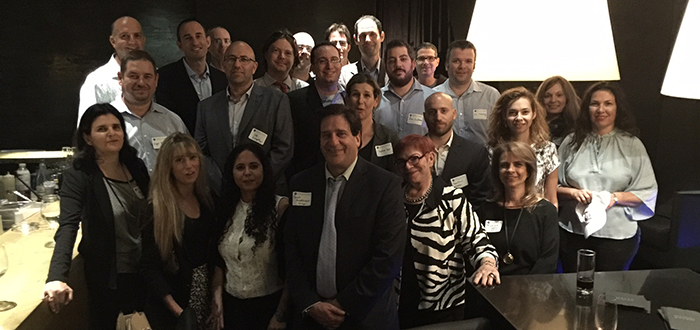 The Israel chapter is looking forward to holding another event this year on November 16 in Tel Aviv; we are excited to again host Dean Diller and Assistant Dean Bullock. The Israel chapter looks forward to hosting meaningful events in the future, which will continue to foster strong alumni relationships and strengthen Fordham's connection with Israel.
Ilan Ben Avraham LL.M. '16 is of counsel at Garson, Segal, Steinmetz, Fladgate LLP. He is also legal researcher and the director of special operations at Lexidale and founder of New York Dog Lovers and a member of the board of directors of Fordham's Entrepreneurial Law Advisory Council. He previously worked at Taboola, where he established the company's legal department.

Daniel Rubel J.D. '03 is of counsel at Zeichner Ellman & Krause LLP (ZEK) and manages ZEK's Israel practice. Daniel helped spearhead the firm's accomplishment of being the very first law firm to be certified as a foreign attorney's office by the Israeli Bar Association and regularly assists Israeli clients in a wide variety of sophisticated U.S. legal matters.

---
Jordan
Fordham Law organized a reception in Jordan for the first time last year. Held in Amman, the reception was attended by 25 lawyers of prominent law firms in Jordan, professors of law, and Assistant Dean Vera Bullock.
Jordan has three active Fordham alumni: one is the managing partner of Eversheds' Amman office, the second is a legal consultant of Capital Bank, and I am the third.
As we are a small group of Fordham alumni, we became close friends and our meetings are currently organized on an informal basis. We are happy to help any Fordham student to find an internship or a professional opportunity in Jordan.
Sufian Bataineh LL.M. '16 is the co-founder of N&B Lawyers law firm in Jordan as well as of counsel at Rutsaert Legal in Luxembourg.