Of the 124 LL.M. students who entered Fordham Law this fall, five are Fulbright scholars. The Fulbright Scholarship is a merit-based international academic exchange program created by J. William Fulbright and administered by the U.S. Department of State. Extremely competitive, the scholarship is awarded to American and foreign nationals to study, teach, lecture, and conduct research abroad. It aims to increase the mutual understanding between U.S. citizens and people from all over the world in order to create harmonious international relations.
Hailing from Panama, Israel, Switzerland, Latvia, and the Dominican Republic, the five scholars in Fordham's entering LL.M. class strive to make the world a better place.
Agnese Gerharde
Agnese Gerharde, a Fulbright scholar from Latvia pursuing an LL.M. in intellectual property and information technology law, already knows the importance of cyber-law and international governance.
After earning her bachelor's degree, Gerharde began working in the Ministry of Foreign Affairs of the Republic of Latvia. Initially a member of the Security Policy Department, she joined just before Latvia's first Presidency of the Council of the European Union, a position that calls on alternating national governments to manage the council for six months. During Latvia's Presidency in the first half of 2015, Gerharde worked in Latvia's capital of Riga; Brussels, Belgium; and Strasbourg, France representing Latvia in various working groups of the EU and the Council of Europe.
"It was the most emotional and busiest time of my life," Gerharde said. "I have learned so much and grown both professionally and personally."
While in Strasbourg, Gerharde participated in the drafting process of a new international legal instrument. This experience prompted her to switch to the ministry's legal department, where she dealt with policymaking and international law.
During her time at the ministry, Gerharde realized that more attention ought to be paid to the emerging field of cyber-law. For over a year at the ministry, she worked on cybersecurity law issues on a daily basis, and she plans to pursue future work in this field.
After the program, Gerharde plans to remain in New York for post-degree training before returning to Latvia with her new knowledge and experiences.
Maroun Maa'louf
Maroun Maa'louf, a Fulbright scholar from Israel pursuing an LL.M. in international law and justice, seeks to become a voice for voiceless minorities.
Born and raised in Nazareth, Maa'louf grew up amidst the ongoing Israeli-Palestinian conflict. During the Palestinian uprising in 2000, his society suffered a major economic collapse, and numerous work sectors were shut down across the country. Maa'louf recalls the frequent passing of warplanes in the sky above him, and his family's occasional need to hide in shelters from rockets fired during the 2006 Israeli-Lebanese second war.
Despite his own hardships, Maa'louf stressed that he had been luckier than many other children in different areas in Palestine, Israel, and the entire Middle East. "My suffering was nothing compared to other kids living nearby," he said. Many people, he said, to this day live in refugee camps or deal with shortages of food and water
With a burgeoning passion for social justice, Maa'louf became involved in international affairs. In the 11th grade, he traveled to the U.K. for a Model United Nations conference, where he was the only non-English speaker on the human rights committee. He ended up winning Best Delegate, the top award. Maa'louf hopes someday to become a U.N. diplomat.
Growing up as a minority himself—an Arab Christian in Israel—Maa'louf seeks to represent religious, ethnic, linguistic, and national minorities especially in the Middle East. Such minorities, he stressed, are often overlooked.
"I want to be their advocate," he said.
Parveen Punjabi
Parveen Punjabi, a Fulbright scholar from Panama pursuing an LL.M. in banking, corporate, and finance law, aspires to improve her country's corporate system.
From an early age and with the support of her family, Punjabi devoted herself to her studies. Recognizing her innate sense of justice and an interest
in argumentative discourse, she decided to pursue a law degree at the Catholic University Santa Maria la Antigua. She graduated law school at the top of her class and earned the second highest average among all students at the university.
Punjabi has also been proactive in her pursuit of legal work. Among other jobs, she served in the corporate and compliance departments at Patton, Moreno & Asvat, where she was in charge of controlling the creation of corporations and foundations.
Despite having a full-time job, Punjabi continued her studies at night. "Persistence and patience are two virtues that are not easy to practice, but they will take us where we want to be and will help us accomplish all our goals," she said.
After earning her LL.M., Punjabi may remain in the United States for a year of post-degree training. Ultimately, she plans to return to Panama to enhance the country's corporate system. Combining her past experiences in compliance matters with the knowledge she will gain in pursuit of her LL.M., Punjabi aims to contribute to the improvement of control instruments for Panamanian corporations and foundations.
Manuel Silverio
Manuel Silverio, a Fulbright scholar from the Dominican Republic pursuing an LL.M. in banking, corporate, and finance law, strives to help citizens of his home country access banking.
Silverio stressed how the Dominican Republic has struggled through its fair share of hardships. In 2004, the country suffered its worst banking crisis. He recalls milk prices changing drastically on a daily basis.
Silverio noted how only 40% of his country's citizens have access to banking institutions and credit. "People usually take banking for granted until they don't have it," he said. He admitted that much of his own early success stemmed from his mother's ability to access credit and take out loans.
Due to instrumental restrictions, banks cannot help the other 60% of citizens. Silverio suggested that the system may need to change to allow non-banking services to help the financially underprivileged majority. He also suggested that Fintech, a term used to describe technological innovation in financial services, can help.
Before working in consumer education and helping individuals access banking, Silverio hopes, upon the completion of his LL.M., to teach lawyers in the Dominican Republic for a few years. Eventually, he hopes to become an ambassador for financial inclusion of his country.
Noemi Valloni
Noemi Valloni, a Fulbright scholar from Switzerland pursuing an LL.M. in U.S. law, aims to work in corporate law with an international focus.
Before enrolling at Fordham, Valloni was a member of the banking and finance team at Bär & Karrer AG, a leading Swiss law firm. She has also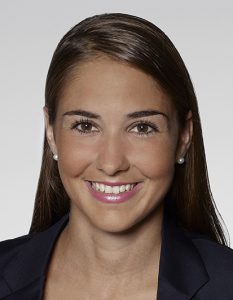 worked in the field of internal investigations in Zurich and in the field of corporate law in London. She decided to continue her studies in the United States to broaden her professional and cultural horizons.
"Working hard, combined with the necessary portion of luck, will allow you to achieve all the goals you want," she said.
Valloni has chosen to study U.S. law at Fordham because the flexible curriculum allows her to take advantage of a wide range of courses.
After earning her LL.M., Valloni plans to return to Switzerland to work in a prominent law firm. She also aspires to earn her Ph.D. in the field of corporate law. In the spirit of her Fulbright scholarship, she desires to maintain an international focus.
"In our globalized world," she said, "it becomes steadily more important to understand the different cultures and backgrounds people come from, in order to successfully understand and develop international relationships."