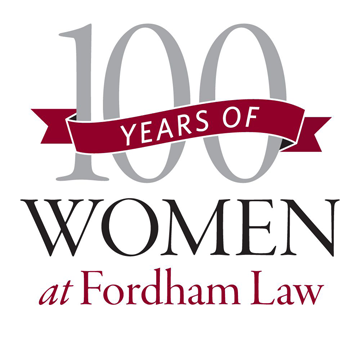 When Afua Atta-Mensah '04 started as executive director of Harlem-based Community Voices Heard in September 2016, she anticipated that she would face uphill battles building power in disenfranchised communities similar to those she had encountered earlier in her nonprofit career. But she never expected to confront these challenges during a Donald Trump presidency.
Following the unpredicted election result, Atta-Mensah's administrative focus at Community Voices Heard, a member-led, multiracial organization principally comprised of women of color and low-income families, went from raising money and retaining talent to countering federal government policies that "metastasized some of the worst issues individuals and families are dealing with," including affordable housing, immigration, and policing.
This year, Atta-Mensah's focus has shifted again: from a defensive posture to an offensive one that seeks to foster proactive approaches to propose laws and influence lawmakers that will benefit her constituents over the next 10 to 20 years. She is notably leading a grassroots effort against a city proposal to rezone large portions of East Harlem for residential towers and has demanded Mayor Bill de Blasio's administration first allocate $200 million to upgrade existing public housing buildings and increase the number of affordable units for low-income families.
"2018 is about fighting back," Atta-Mensah said.
Throughout her career, Atta-Mensah has demonstrated an unceasing willingness to fight for what she believes in. This approach dates back to her time as a Fulbright Scholar in Ghana advocating on behalf of indigent women. There, she worked with area lawyers to draft legislation to criminalize marital rape and also served as a visiting university lecturer.
"There was kind of a quiet fury in some of the women in Ghana, because they knew what was happening was wrong," Atta-Mensah said. "These women were trying to think of a way to protect themselves and their family, while also thinking of a way to get out of a dangerous situation."
Between 2012 and 2016, Atta-Mensah served as the nonprofit Urban Justice Center's director of litigation for the Safety Net Project. In that capacity, she shepherded a successful federal litigation effort that forced former Mayor Michael Bloomberg to abandon demolishing public housing playgrounds and community centers so that developers could erect high-priced apartment towers. The Safety Net Project also prompted mayoral candidates to spend a night in public housing to experience the horrid conditions residents live with on a daily basis.
Atta-Mensah's close work with women of color and disadvantaged families and communities has cemented her belief that legal advocates should listen more intently and openly to their clients.
"Lawyers should free themselves more when it comes to taking direction from clients and communities—people who want to build power for themselves," Atta-Mensah said. Being a woman of color herself, she understands her clients' challenges and furthers an "unapologetic" vision of what the world could be without the structural barriers that hold women of color back.
Atta-Mensah, who lives in Central Harlem with her husband and 5-year-old daughter, joined Community Voices Heard's board of directors in 2008. The nonprofit develops and guides civic leaders, grassroots organizations, and neighborhood activists as they take powerful, concrete steps to improve their lives and their communities, according to its website. Atta-Mensah's base-building strategies with Community Voices Heard include tactics borrowed from a less tech-centric era. She does first meetings in person, whenever possible, and makes a point to turn off her phone and put it in her bag.
"I've found that being intentional about setting aside time to be fully immersed in conversation is an integral part of building relationships," she observed. "You can't build a base without relationships."
The same wisdom applies for building a successful legal career. Atta-Mensah developed lasting relationships as a Stein Scholar nurtured by a community that challenged and supported her. She balanced her Fordham Law course load and Stein activities while working 30 hours per week as a politics writer for The Source and a music-label employee assisting with publishing rights issues.
While Fordham Law's 100 Years of Women is a notable milestone, Atta-Mensah commented that it also provides a moment to reflect on opportunities to make both the practice and education of the law more equitable for women, in particular women of color. Atta-Mensah gives back to Fordham by returning annually to speak with Stein Scholars, sharing her insights with students pursuing a Fulbright Scholarship, and using interns from Fordham Law.
"Fordham has always been so supportive of me," she reflected. "I feel so blessed to be part of that community."
During the 2018–2019 school year, Fordham Law School is celebrating 100 Years of Women.