Earlier this fall, Fordham Law welcomed a pair of highly accomplished candidates into its prestigious Doctor of Juridical Science (S.J.D.) degree program. These new students join 15 doctoral candidates who are continuing their studies.
The new doctoral candidates, Alison Gordon and Abigail Marcus, received their primary legal education in New Zealand and South Africa, respectively. Gordon's scholarly work, supervised by Professor Youngjae Lee, will analyze solitary confinement practices in the United States and United Kingdom. Meanwhile, Marcus' scholarly work, supervised by Professor Sean J. Griffith, will examine private enforcement of anti-corruption measures in both the United States and South Africa, which could be helpful in developing countries.
Alison Gordon
In Alison Gordon's native New Zealand, solitary confinement is employed far less frequently and for shorter durations than in the United States, where an estimated 80,000 incarcerated people are kept in isolation for periods lasting from days to decades. The sheer volume of people confined in cramped cells for 22 to 24 hours per day was not the only issue, however, that surprised Gordon as she continued her legal education in the U.S. The lack of reform discussion in the legal literature on solitary confinement convinced her that the topic was ripe for more investigation.
At Fordham, Gordon will analyze and compare how solitary confinement is used in the U.S. and the U.K., and the basis for its use. Her study includes the U.K., with little known about its solitary confinement use, because, for the time being at least, it is subject to the European Court of Justice and European Convention on Human Rights. Other European countries rarely use solitary confinement and regard it as an outdated practice to avoid, Gordon noted.
As some states in America have reduced or abandoned the death penalty in recent decades following legal studies that question its crime prevention efficacy and its Eighth Amendment implications, similar potential exists in curbing solitary confinement practices, according to the S.J.D. candidate.
"It logically follows that the next thing we should examine is the treatment of people in prison, many of whom are there for life," Gordon said. New York's notorious Rikers Island will factor into Gordon's review as will federal prison reforms and the contrasting ways in which states view solitary confinement.
Fordham's location and the School's faculty quality and expertise on issues surrounding imprisonment ultimately convinced her it was the best place to continue her scholarly development.
"Fordham appealed to me because it has several professors who are thinking broadly about the justifications of punishment in society as a whole," Gordon explained. "It seemed to me the solitary confinement issues I am focused on would fit with those professors' fields of expertise."
Abigail Marcus
As a law student in South Africa, Abigail Marcus first learned about Fordham Law from a Fordham International Law Journal article written by the Hon. Albie Sachs, then a justice on the Constitutional Court of South Africa. At the time, she envisioned a career in human rights law. Years later, after she centered her legal attention elsewhere and moved to New York, Marcus became reacquainted with Fordham.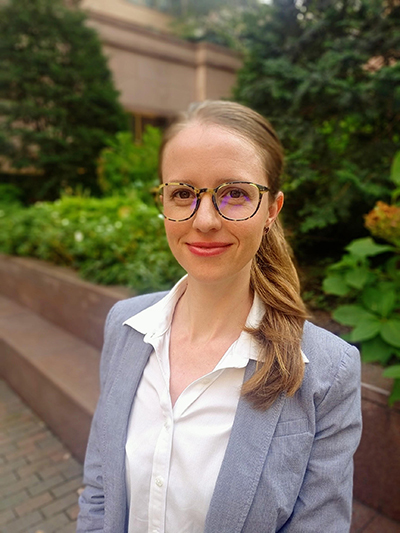 Marcus, then an associate in Latham & Watkins' finance group, sought to return to school to write about and research private enforcement of anti-corruption laws and what measures can be taken to incentivize corporations that would limit corrupt actions. She chose to bring this comparative approach—focusing on South Africa and exploring methodologies in the U.S. that would be useful in developing countries—to Fordham because of the practical experience its faculty possessed and the emphasis its S.J.D program put on teaching.
"My practice gave me a lot of insight on these issues but not the time and resources to focus on research and writing about them," said Marcus, who was a fifth-year associate at Latham & Watkins before enrolling at Fordham. "This felt like the right moment for me to do so, both personally and in terms of where things stand in South Africa and internationally around corruption and anti-corruption."
Marcus represented lead arrangers and borrowers in acquisition financings, re-pricings, and payoff transactions while at Latham & Watkins. Her path to corporate law started after graduation when she worked at a highly regarded corporate firm in Johannesburg to gain legal experience while waiting the customary two years before sitting for the bar. She enjoyed corporate law far more than she expected. That enthusiasm remains evident today.
"It's quite thrilling to be on the cutting-edge of transactional law in global finance," Marcus said. "It's a very demanding and a very rewarding practice. You get to see how the market works, how it changes, how it adapts, how people are thinking about things at a global level."
While at Latham & Watkins, Marcus also worked pro bono for the United Nations Global Compact and represented an applicant for special immigrant juvenile status in Federal Immigration Court and at the Bronx Family Court.
"Working at the Bronx Family Court provided me an opportunity to stay on the learning curve and have a practice that was more diverse than transactional work," said Marcus, adding she is interested in getting involved with a center at Fordham to continue her immigration pro bono work.