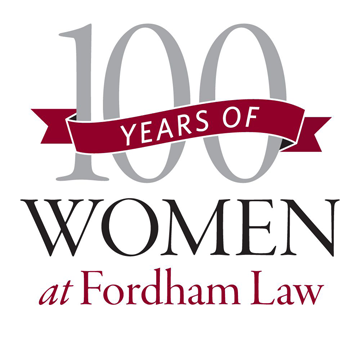 Careers in corporate compliance are as in demand as ever and women are stepping into leadership roles in the field. However, while recent figures suggest that women make up a majority of compliance officers, they are woefully underrepresented as wealth fund managers. Three Fordham Law alumnae discussed this imbalance among other investment management topics at an October 17 event associated with the School's 100 Years of Women celebration.
After outlining the trajectories to their current positions, panelists Courtney E.K. Lewis '10 from Hound Partners, Gina N. Scianni '04 from Contrarian Capital Management, and Maysa Vahidi '00 from Rockwood Capital responded to questions posed by Alice BrightSky, senior director of compliance programs at Fordham Law, as well as the audience.
BrightSky asked whether the increased presence of women in the compliance arena is leading to a psychological shift among leadership to place women in other senior management positions.
"I think it has increased visibility," said Lewis. "It has also increased our opportunity to impact the organization to hire more women."
Lewis, who is the only senior woman among 25 employees at Hound, added that she was the first woman in the company to have children and thus the first to take maternity leave. In fact, up to that point, there was no formal company policy for leave, so Lewis gamely created one.
Vahidi spoke about the importance of women representation as it relates to an investor's interest in doing business with a company. Potential investors routinely distribute diversity questionnaires to wealth firms to size up their diversity programs, so it behooves management firms to champion women.
"There is conscious decision-making from the top motivated by the real and powerful idea that diversity is good for business," Vahidi said after the event.
Scianni talked about the striking contrast of participating in a legal or business meeting with her company versus attending a larger compliance industry event.
"Whether it's at a law firm or we're going to the client's office or they're coming to our office, it's almost always all men and then me," she said. "When you go to a regulatory compliance seminar or conference, it's all women."
The panelists also talked about the various professional paths one can take to work in compliance, the rise of compliance-specific degrees and courses in legal education, and the urgency of staffing up compliance offices as regulations such as Dodd-Frank and other legislation have gone into effect.
The event was sponsored by Fordham Compliance Programs.