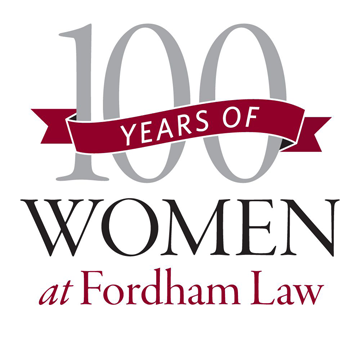 In the hundred years since Fordham began admitting women to the Law School, men have played various roles in the academic and professional experiences of women, sometimes helpful, sometimes not.
Hon. Amy Piro Chambers '74 can speak to both aspects. While she warmly remembers her professors at Fordham and the fine education they provided, she does recall one professor who made a point of never calling on women in class—except for one day when he would only call on women. Chambers did not let this faze her.
During her 2L year as she was looking for a summer job—at a time when female summer law clerks were uncommon—she was invited to interview at Breslin & Breslin, located across the street from the American Renaissance–style Bergen County Courthouse in Hackensack. Upon learning of her Fordham Law pedigree, Jerry Breslin '63, her interviewer, offered her a job on the spot. She accepted, and worked there as a law clerk for the summer.
"So the Fordham Law graduate who made the biggest difference in my career was a man," Chambers states unequivocally.
Grateful for Breslin's kindness and impressed by the strength of Fordham Law community bonds, Chambers believes that this experience was a springboard into her distinguished career in the state of New Jersey.
"I remember leaving that interview, looking up at that courthouse, and thinking, 'What a beautiful state and what a great place to practice law,' " she says.
In the decades since she first entered law school, Chambers has had an inside view on how the legal profession and its general attitude toward women have evolved. "People couldn't get their heads around the fact that women wanted to go into law," she recalls of her early years. "Women in law school were unusual."
When Chambers began her tenure as a judge of the Superior Court of New Jersey in 1986, seeing women in the judiciary was also unusual. "Those were the 'lady judge' days," she says, a reference to the way people sometimes referred to female judges at the time.
"When I first went on the bench, you felt as a woman judge that you were under a microscope," she says. Fortunately, change was already being made in New Jersey due to a strong coalition of women.
"We had an enormously supportive group of women judges," Chambers says, "and every year there would be new ones."
When she first started work in the Superior Court of New Jersey, Chambers would attend small get-togethers where every female judge in New Jersey was present—a way to keep in touch and draw support and encouragement from one another. Eventually the group got so large that the small get-togethers were no longer possible, a palpable sign of progress.
Before she attended Fordham Law, Chambers enjoyed both the humanities and math and science courses—and she didn't want to have to choose between them. "I wanted something that combined the logic from math and science with the issues from the humanities," she says. A career in law—with its formal rules and regulations applied to the complex, and often messy, business of everyday life—made sense.
Chambers adds that her work on the bench, from which she retired in 2010, was rewarding in part because it was so intellectually challenging. "There's a great deal of satisfaction getting a difficult case and reaching a logical and just decision," she says.
She notes that women have come a long way in the legal profession since 1918, when Fordham Law began admitting women: indeed, since then they have won the right to vote in the United States, seen steadily increasing representation in the judiciary and law offices, and in 2016, for the first time, there were more women in law school than men. "It's an incredible, historic transition," she says.
"It really shows the power of human beings to grow, and Fordham Law has been a microcosm of this trend for the past hundred years."