The 35th Annual Metropolitan MENTOR Moot Court Competition, which started off with 740 students from 36 New York City public high schools, narrowed to the 12 best teams in its quarterfinals. The quarterfinal rounds took place on November 25, 2019, at Fordham Law School.
Fordham Law has partnered with the Justice Resource Center to provide this unique opportunity for the last four decades. The partnership was launched by John Feerick '61, Norris Professor of Law and former dean of the Law School, after being approached by former Federal Bar Council President Tom Evans. The program helps high school students get more acquainted with the law, legal process, and the fundamental values upon which laws are made. Participation improves essential life skills like public speaking, confidence, posie, and critical thinking, and encourages the young participants to pursue a legal education and professional career.
"There is no program of our school in the service of others that is more important than this partnership with the Justice Center," Feerick said. "It expresses who we are as an institution—compassionate and caring for our youth and our successors in a society characterized by its humanity."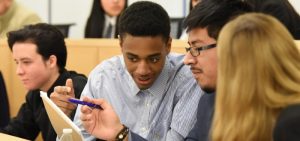 Teams are comprised of between four and 20 students. Each is paired with a lawyer from a New York City law firm or other legal organizations and at least one high school teacher who help them read and understand the cases and coach them on oral advocacy skills, explained Debra Lesser, executive director of the Justice Resource Center.
"Working with lawyers offers students a window into what lawyers do, the inner workings of a firm and can serve as pipeline to the legal profession," Lesser added. "The added rounds with federal judges presiding in the courthouse enables students to compete in a realistic setting. Most students never met a judge [beforehand]. The MENTOR model offers students opportunities that are not readily available to public school students."
Fordham Law student Michael Dal Lago '20 wrote the fictional appellate lawsuit that was presented to the quarterfinalists. The case dealt with the Fourth, Fifth, and Fifteenth Amendments, in which teams had to persuasively argue if the amendments had been violated or not. Four students from every school presented arguments each day. Two students from each school represented the fictional petitioner, Frank Maddison, and the other two students represented the respondent, King High School. The individual students were given 10 minutes to argue their side while receiving tough questions from Fordham Law students, professors, and alumni. 
Professor Ted Neustadt, associate director of legal writing at Fordham Law, judged one of the rounds and said that he saw an energetic and engaging group before him. One of his favorite parts was seeing the students thoughtfully pause and rebound from the judges' compound questions. "We see that you're thinking," Neustadt said. "It's the most engaging moment for us because there's really a conversation going on and it's not a pre-planned, mechanical conversation."
The team from James Madison High School in Brooklyn was one of the 12 quarterfinalists that had participated in the MENTOR Moot Competition before. According to its two faculty member coaches, the team practiced four days a week for five weeks—both at the school and with Rachel Ross and William Natbony, the primary attorney coaches from Cadwalader, Wickersham & Taft law firm. Cadwalader has been involved with the MENTOR Law Program since its inception and has had a successful mentoring relationship with James Madison High School. This year, more than a dozen Cadwalader attorneys mentored the team throughout the entire Moot Court competition process.
"[What I gained from this experience] was the ability to think on my feet," said senior Radion Dabija, who has participated in this competition throughout his four years in high school. "You go from being scripted to gaining more poise and being more conversational. You're grasping knowledge from those who already know things from other students, Fordham Law students, and judges. I'm feeling accomplished, and it's been a very rewarding experience."
Dabija's teammate and first-time oralist Janelle Moe said the experience had been "nerve-wracking but exhilarating" for her thus far. "I've learned different aspects of constitutional law and have argued about the Fifth Amendment—going in-depth with what it covers and what it doesn't," Moe said. "It's become very fun at this point. It's real life, being in a mock courtroom and presenting your case."
The James Madison team continued to best the competition in subsequent rounds and won a victory over all New York City public schools in the final Metropolitan competition. The team went on to represent New York in a final battle against the Long Island champion, losing to Mastic Beach's William Floyd High School.