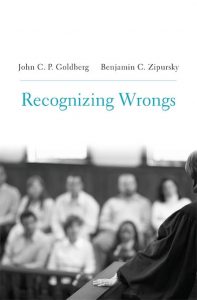 Tort law might appear to be one of the more straightforward areas of legal study, but Fordham Law Professor Benjamin C. Zipursky and Harvard Law Professor John C.P. Goldberg believe it has been badly misunderstood for most of the past half century.
Tort law is the body of law governing the redress of injury, which enables victims to seek remedies for wrongs committed against them. In Recognizing Wrongs, published February 4, 2020 by Belknap Press of Harvard University Press, Zipursky and Goldberg outline their project as a rethinking of tort law as civil recourse, extricating it from economic and public policy analyses. In their introduction, the co-authors make a strong claim for civil recourse theory and in opposition to the more prevalent perspective on tort law, corrective justice theory. 
"Tort law is what it looks to be," write Zipursky and Goldberg, "and what its name once clearly announced—it is a law of wrongs."       
Though the book is directed primarily at legal theorists, two chapters detail the practical application of Zipursky and Golberg's approach to applying to contemporary issues such as pharmaceutical litigation and internet libel.
The book is the evolution of themes Zipursky first introduced in a Vanderbilt Law Review article he published in 1998. Fordham Law Dean Matthew Diller lauded Recognizing Wrongs, calling it a "major statement from the two most-cited tort scholars in the country."
To counter those who would argue that tort law is "small potatoes" compared to areas of law like international human rights, the authors suggest that tort law outlines, at a foundational level, the responsibilities citizens have to one another. Those responsibilities, in turn, form part of the underpinnings of democracy. Zipursky and Goldberg write, "We do think that having a law of torts, at least in a modern liberal democracy, is critical to having a just legal and political system."
"For too long," Zipursky states, "legal scholars were afraid to admit that tort law really is about responsibility. They have thought it critical to be pragmatic, not moral. We think that tort law must be understood as both pragmatic and moral."
To honor the book's publication, Fordham Law School hosted a reception for Zipursky and Goldberg on February 5, 2020.