With Hispanic Heritage Month concluding, we recognize some Fordham Law alumni who continue to lead and pave the way for the next generation of legal professionals.
Marjorie De La Cruz '98
Marjorie De La Cruz currently serves as the senior vice president, general counsel for the Latin America region at PepsiCo, Inc. In that role, she is responsible for all legal, regulatory, and public policy matters for PepsiCo's $7.5 billion food and beverage business in Latin America by leading a team of over 90 legal professionals. De La Cruz was one of the only women in a leadership role as of spring of 2019.
Hon. Arthur J. González '82
In early October 2020, Judge Arthur González stepped down as a member of the Financial Oversight and Management Board for Puerto Rico, which was part of the federal strategy to address and mitigate the island's ongoing financial crisis. He was appointed the position in 2016 by President Barack Obama for a three-year term, but stayed on for an additional year. Prior to the appointment, Judge González served on the United States Bankruptcy Court for the Southern District of New York from 1995 to 2012, working on some of the country's highest-profile corporate bankruptcy cases like Enron, WorldCom, and Chrysler. 
Cesar A. Perales '65
Cesar  Perales has a 50-year record as a dedicated public servant. In addition to co-founding the Latino Justice Puerto Rican Legal Defense and Education Fund, Perales has served as assistant secretary at the Department of Health and Human Services, commissioner of the New York State Department of Social Service, and the secretary of state of New York. In 2009, Perales received the Lifetime Achievement Award from the Hispanic National Bar Association.
Anilu Vazquez-Ubarri '02
Anilu Vazquez-Ubarri is a partner and chief human resources officer at TPG Holdings LP in the San Francisco Bay Area. Before joining TPG, Vazquez-Ubarri was with Goldman Sachs for more than 11 years, where she most recently was the firm's global head of talent and chief diversity officer. She also sits on the board of directors for the Latino Justice PRLDEG; serves on the board of trustees for the Fordham Law Alumni Association; and is a member of the Teach for America Bay Area regional board. 
Hon. Joanne D. Quiñones '97
Joanne Quiñones is an acting justice in the Kings County Supreme Court and a member of the Franklin H. Williams Judicial Commission, which strives to promote racial and ethnic fairness in the New York Court System. Prior to her appointment to the bench in 2010, Judge Quiñones served as the principal court attorney to the Hon. Matthew F. Cooper and previously served as a staff attorney with the Criminal Defense Division of The Legal Aid Society. She is also an active member in many bar associations, including the Brooklyn Women's Bar Association, the Columbian Lawyers Association of Brooklyn, and the Puerto Rican Bar Association.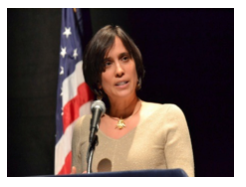 Karla G. Sanchez '95
Karla Sanchez served as the executive deputy attorney general for economic justice for the New York Attorney General's Office responsible for the AG's agenda on all issues involving antitrust, consumer frauds, the Internet and technology, investor protection, and real estate finance. In 2006, Sanchez co-founded Cafecito, a networking group that brings together Hispanic/Latina lawyers and law students from different areas to share ideas, experiences, contacts, jobs, referrals, and resources.
Rob Sanchez '14
Rob Sanchez is the founder and commissioner of Venture League, Inc., which is a team-based competition for serial entrepreneurs and startup enthusiasts. He is also the co-founder of MouthMedia Network—a podcast network with 18 public podcasts that covers business and technology—and co-hosts "Fashion Is Your Business," "The Word From Mouth," and "Your Name Here." Sanchez teaches at Fordham Law School as an adjunct professor and sits on the Entrepreneurial Law Advisory Council.