As Fordham Law School celebrates Hispanic Heritage Month, we spoke with Dayana Ledezma '22 and Zane Mitchell '22—president and vice president, respectively, of Latin American Law Students Association (LALSA)—about the group's goals for the 2021-22 academic year and the fun events that will be held in celebration of Hispanic Heritage Month.
This past year and a half has been filled with classes, events, and student organizations meeting remotely. What was LALSA able to accomplish during the 2020-21 academic year, and how do you plan to build on that momentum for this academic year?
DL: We were actually able to do a lot last year considering the circumstances. Most of our events (including Game Night for the 1Ls, firm outreach programs, and professional and networking panels) were held virtually, but we were able to hold a socially distanced event in Central Park where members could come, relax, and eat empanadas while meeting the 1L representatives in person. We also started a new initiative in the fall semester, offering weekly office hours for the 1Ls. We've since tweaked that model and will be holding biweekly office hours on Thursdays during the 12 to 2 p.m. window. 
Another major highlight that came out of last year—and one that we're hoping to bring back this year—is focusing on wellness and mental health in the spring. We held a wellness weekend series that featured dance cardio and kickboxing lessons as well as an imposter syndrome panel that was co-sponsored by the other law student associations (ALSAs) on campus [Asian Pacific American Law Students Association, Black Law Students Association, Irish Law Students Association, Jewish Law Students Association, Muslim Law Students Association, and South Asian Law Students Association].
And honestly, I think, the momentum has built us in that we've seen such a need and interest, from both the current 1L and 2L classes, to meet and get to know each other in person. Even before the new school year started, we saw a lot of interest and excitement at our socially distanced park event welcoming the incoming 1Ls. Then, we also came together on Public Service Day to provide technical support for online governmental and nonprofit assistance applications. It's been really wonderful to see the same faces over and over again at our general body meetings and to be seeing people RSVPing to events.
ZM: The previous boards have built the foundation for us and we also have an excellent board this year. Our board members are so smart and responsible and have been especially working hard the past couple of weeks ahead of Hispanic Heritage Month.
Speaking of Hispanic Heritage Month, why is it so important and how does LALSA plan to celebrate it?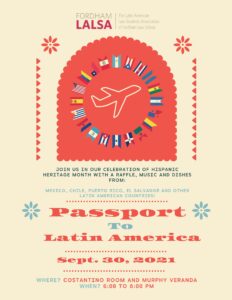 DL: For me, it's just really a time to pause from our busy and hectic lives and to acknowledge and be inspired by the many Hispanic and Latinx champions and icons who have contributed such tremendous achievements—not just in the legal field, but also in entertainment, art, science, and business. Even though there are a lot of narratives about the struggles of Hispanics and Latinx people in the United States, I think it's also equally important and valuable to acknowledge the triumphs and achievements, which show how resilient and powerful our community can be.
ZM: To build off of Dayana's point, I think there's so much diversity within Latinx culture. It's not only a moment to pause and reflect, but a moment to celebrate the things that make us unique and bring us together.
DL: In terms of event planning, we have a number of events coming up. Personally, I love food, and I think one of the best contributions that Latin American culture has given to the world is our food and how diverse it is from country to country. So we're happy to be holding our third annual "Passport to Latin America" on Thursday, Sept. 30 (Costantino Room and Murphy Veranda, 6-8 p.m.) which will feature stations with well-known dishes from seven different Latin American countries, music, and an opportunity to enter a raffle for two tickets to the Yankees-Rays game on Oct. 2. Rafael Zapata, associate vice president for academic affairs and chief diversity officer, will also offer some remarks on the importance of Hispanic Heritage Month.
ZM: We're sharing this event with the entire Law School community, including faculty and staff, and it will be free for all attendees (RSVP here). I remember going to that event as a 1L and feeling kind of nervous, but interested in meeting people because you're all just starting out at the Law School. With that said, I can't even imagine what the 2Ls, who have spent a year online, and the new 1Ls are going through in that regard. But, I think it's really going to be fun to see everybody and have people come in without worrying about paying for admission.
DL: We're also planning to hold a virtual diversity panel towards the latter half of Hispanic Heritage Month (Oct. 11 or 12, 7 p.m.), which will discuss the different influences and cultures mixed within our Latinx culture. And then we also have a fun social event called "Salsa with LALSA" on Oct. 14 in the evening, which we've had every single year because it's so popular. All of these events are geared towards showing and sharing just how rich and vibrant our community and culture are.
Looking ahead, what are LALSA's goals for the 2021-22 academic year?
ZM: Our goals are twofold. We want to continue offering strong professional development—to give our student members the professional career options that many minority students have been overlooked for in the past—and to continue growing LALSA's endowment fund through the donations of our generous sponsors. From a personal standpoint, we're also trying to cultivate a deeper sense of community, so that Latinx students have a support system and network on campus as well.
If students are interested in attending these events or learning more about LALSA, how can they connect with you?
DL: We're most active on Instagram (@fordhamlalsa) and on Facebook and LinkedIn too. To connect with us directly, students can email lalsa@fordham.edu. Also, Fordham Law has a shared space for all the ALSA groups (Room LL-130). We encourage all ALSA students to come by and chat if they have any questions and use the supplements and books that are available there. Plus, a few LALSA members regularly meet and study there, which is great.