Three easy steps to successful entrepreneurship
We live in an era in which great ideas, from Facebook to Uber, can transform the world at the speed of a smartphone swipe. Our access to technology helps bring businesses to life quickly and often inexpensively. So perhaps it's no surprise that Fordham Law School alumni—sharp, ambitious, and committed to solving real-world problems—are both drawn to entrepreneurship and excelling at it.
And that's why Fordham Law is doubling down on its entrepreneurship-linked work. This fall, as part of its larger and developing Entrepreneurial Law program, Fordham launched an Entrepreneurial Law Clinic with generous support from the Nasdaq Educational Foundation. Student and alumni entrepreneurial programs are growing.
In the pages that follow, we've profiled Fordham Law alumni pursuing entrepreneurial work at every stage, from alumni who are building ambitious and growing "side hustles" to those embedded in multibillion-dollar companies that continue to skyrocket. They're working through tough challenges, dreaming big, and making a concrete impact.
---
BUILD
Alumni in these small-but-growing startups are just getting started as they seek to fill big needs.
Developing Big Ideas
The Our D.R.E.A.M. Foundation, cofounded by Justin Peters '15, fosters an entrepreneurial spirit in kids with big ideas but few resources.
Launching a nonprofit organization while simultaneously studying for the bar might seem like an impossible combination. But that's exactly what Justin Peters did.
He and business partner Johnny Graham co-founded the Our D.R.E.A.M. (Developing Resources to Empower All Minds) Foundation in 2015. That year, the organization offered its first free Youth
Entrepreneurship Startup (Y.E.S.) program to high school students from underserved communities in Baltimore.
"It was hard to balance it all. I often had to leave the library [where I studied]to take phone calls," says Peters, who was lining up Baltimore-area entrepreneurs and business leaders to work with the Y.E.S. program's teenage attendees and donors to fund the initial program.
The Y.E.S. program helps students network and find mentors while it teaches kids how to succeed in business. The students work on their own entrepreneurial ideas, such as developing a wireless battery-charging device. They participate in a business pitch competition at the end of the weeklong program, and they can win awards and prizes.
"Johnny and I learned by doing," says Peters, who practices law in the tax-exempt organizations group full time at Carter, Ledyard, and Milburn, LLP, on Wall Street, while also running the foundation. "We realized that the next generation could benefit from learning the entrepreneurial skill set, which transfers broadly into the professional world."
The biggest challenge for the foundation is funding, Peters says. The foundation used a grant from Baltimore's Annie E. Casey Foundation to get started and now relies on individual donations and small corporate sponsorships. "The kids keep us going. They're dreamers with creative ideas not limited to what is easily possible," Peters says. "It's inspiring, because they have the power to change their communities."
Sealing the Deal
Jennifer Pope '11 built DealBinder to streamline the arduous due diligence process in real estate.
While practicing as a commercial real estate finance attorney, Jennifer Pope was surprised by the lack of technology available to manage public records data for major real estate transactions. "Legal technology had a lot of catching up to do," she says.
But instead of getting frustrated, she took action. After taking tech and product development classes and testing her idea with potential customers, she launched DealBinder in 2015. The company's cloud-based platform helps attorneys obtain and track organizational documents and background searches on the parties in a loan transaction. Information is updated in a user's dashboard in real time, organized by deal, and delivered as a ready-to-use report, accessible anytime.
It's an upgrade from the typical process, which is done through search companies via email by paralegals, who manually track and summarize the data. Pope estimates that DealBinder reduces by 30 percent the time a paralegal devotes to the task. She's working toward adding additional functions to help lawyers complete items on their closing checklists more efficiently.
While Pope bootstrapped DealBinder on her own—giving her complete control of the company—she admits that starting out solo was challenging. "Building the right team and entrepreneurial support network is crucial," she says.
Still, she says, entrepreneurship has been worth the challenges. "Leaving the stability of a regular paycheck was scary, but ultimately, the excitement of building something that could make people's lives easier is what tipped the scales for me," she says.
---
GROW
The alumni in these battle-tested companies have proven their concepts—and are driven to accomplish even more.
What to Wear
Anisha Bhasin Mukherjee '10 built a business to take the guesswork out of finding the perfect outfit.
Anisha Bhasin Mukherjee inherited a love of fashion from her parents, who frequented small boutiques to finnd unique, locally made pieces while living in cities including London, Cairo, and Nairobi.
Now Mukherjee is helping others know exactly what to wear with Dress For The Day (DFTD), a fashion
"calculator" she and business partner Shradha Mehta mocked up in 2010. They launched the company as a website in 2013 and as an app in 2016, all with a single goal: "It's a creative solution to the question, 'What do I wear today?'" she says.
DFTD combines automation with hand-curated styling to recommend outfits and accessories for all occasions based on personal style, weather, and budget. Users can purchase clothes through a affiliate links, and now men can benefit from the recently launched DFTD Men.
The company's growth has been strategically steady; Mukherjee practiced law at a music publishing company while building DFTD, pitching investors, and lining up tech partners.
In 2013, she decided to focus solely on entrepreneurship, making connections between DFTD and other ventures. Eventually, she'd like DFTD's widget to power what-to-wear decisions linked to major retailers' online sales.
While there have been plenty of challenges, Mukherjee's step-by-step approach has paid dividends. "New York's startup community is amazing. If you've got a great idea, you can go for it on the side, while you keep the safety of your day job," says Mukherjee.
Compelling Competition
Andrew Fabian '00 mined his own workout-based frustrations to build a company that connects people to compete.
When Andrew Fabian moved from New York City to San Francisco years ago, he missed running with a friend who'd kept him accountable for his daily miles. To keep up the competition from afar, the two started challenging each other digitally, keeping tabs on who ran faster and farther.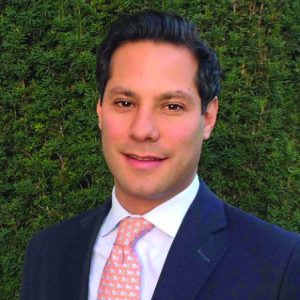 At the time, Fabian was working as a tech investment banker for Credit Suisse. He saw up close how people were spending more time online with their smartphones and wearables, like the Apple Watch. That knowledge led Fabian to launch Mibi, a tech company designed to support competitive challenges across different activities related to fitness, food, fashion, and community service.
While the initial iteration of the app was successful, Fabian envisioned bigger and better uses for Mibi's technology, which helps turn almost any real-life activity into a fun and competitive challenge. He's grown Mibi into a company that powers these "gamified" experiences for sports media, entertainment, and nonprofit organizations as a way to engage their audiences.
Mibi now powers sponsored training challenges between fans and pro athletes for the NBA and the Ultimate Fighting Championships. Nonprofits and schools can use the technology to power a fundraising challenge with Mibi's payment integration.
"We connect brands and their audiences on a deeper level through these experiences," says Fabian, noting that flexibility has been key to Mibi's success. "Entrepreneurs need to have road maps, but also always be thinking about how their business model can evolve."
---
LEAD
With large and thriving businesses, these alumni aren't resting on their laurels
—they're building on the strong foundation they've already laid.
Thinking Inside the Box
Chieh Huang '08 has built a behemoth in Boxed, a company that delivers bulk goods to your front door.
After Chieh Huang sold his first startup, a mobile social gaming studio called Astro Ape, to gaming giant Zynga in 2011, he turned to the world of bulk consumer goods for his next entrepreneurial venture.
Huang had always loved getting good deals on things like peanut butter, cereal, and laundry detergent, but the Manhattan resident didn't have a car to get to Costco to stock up on goods. He figured other city
dwellers had the same problem.
That was the problem Huang hoped to solve through Boxed. A few investors bought into the idea because of Huang's success with Astro Ape, even as they expressed skepticism about e-commerce. The company's beginnings were humble: He and a couple of friends packed goods in Huang's garage in New Jersey.
Yet it worked. The company tapped into a market demanding wholesale prices, two-day doorstep delivery, and the convenience of shopping from a phone without having to subscribe or drive to a brick-and-mortar store.
Boxed soon was called "genius" on NBC's Today Show in a Tech for Moms segment. It has four nationwide fulfillment centers and earns more than $100 million in revenue annually. In 2016, Forbes named Boxed one of its 25 Next Billion-Dollar Startups.
Even as a successful CEO, Huang hasn't lost sight of what's most important to him: education. He set aside half of his stake in the company to fund a program that covers college tuition for the children of full-time employees at Boxed.
"I'm hyper-aware of where I came from—who I was and who I want to be," Huang says. As the son of low-income immigrant parents who modeled a strong work ethic and prioritized education for their children, Huang carries those values with him today. "I'm nothing without the people who help me run Boxed," he says. "I refuse to head a company that doesn't help its employees with upward mobility."
Making Bigger Better
Adam Turkel '05 is helping Slack navigate legal challenges as it grows at breakneck speed.
Adam Turkel has never been one to play it safe. "I've always been attracted to riskier situations that other lawyers might not find comfortable," says Turkel, lead counsel for business messaging service Slack. "For a long time, I tried to work in earlier-stage venture-backed tech companies. Slack is the pinnacle of that."
Slack helps workers collaborate whether they're on their desktops or phones—and makes it easy to integrate services including Google Docs, Salesforce, and Twitter. Today, Turkel says, thousands of businesses and millions of people use Slack.
Turkel joined Slack in 2016, after working as lead counsel at Facebook for a year and following migrating colleagues. He began his law career at international law firm White & Case and spent time at Salesforce.com, a cloud-based customer-relationship management system. He left to join the digital music service Beyond Oblivion, which collapsed in 2011.
He doesn't regret it. At startups, he's had the chance to do a little bit of everything, from structuring early-stage partnerships to marketing to overseeing employment issues.
At Slack, Turkel and eight other attorneys work on intellectual property strategy, privacy and data protection, and various commercial and corporate transactions. "We are trying to develop an approach and provide legal support for a company that's become wildly successful in a short period of time," he says. "The business expands and we play catch-up."
He gives Fordham's academics and faculty significant credit for his success. Law school was "the first time I read a case," he says. "They helped me go from zero to a competent attorney."
Being able to understand law and know how it might apply to a business has helped Turkel do more for the emerging tech firms he loves. "Smaller companies have an idea and need help executing that," he says. "You become responsible for defining how to support them."
Moving Money Quickly and Safely
Karl Kilb '95, CEO of Boloro, puts ATM-like security in your hands.
Even when working for someone else, Karl Kilb always considered himself an entrepreneur. He attended Fordham Law at night so he could be a broadcast journalist at places including CNBC and 1010 WINS Radio and experience mass media at a time when the industry was rapidly changing. When shown a Bloomberg Terminal in the CNBC newsroom, Kilb saw the future of media—and called Michael Bloomberg directly to ask for a job. Kilb was interviewed by Bloomberg, hired as a broadcaster, and later became Bloomberg's first in-house counsel upon completing law school, building the company's entire legal and compliance department from scratch as general counsel.
After 22 years at Bloomberg, "I wanted to go on to the next adventure," he says. Kilb became involved with a few technology startups. With his knowledge of technology and financial services, he saw how the two were coming together to allow payments and other transactions on smartphones and realized that security is essential. In his latest entrepreneurial move, Kilb became CEO of Boloro, a global mobile authentication and payment network that lets people use their phone to validate their identity and make financial transactions in a fraud-free way.
"People want to do everything on their phone, even pay for things," Kilb says. "Boloro's patented process puts an ATM-like authentication technology in your hands that replaces cash."
Users enter a memorized four-digit PIN to authorize payments via flash text messaging, the same secure channel used to send Amber alerts and weather warnings to any mobile phone. "Our authentication channel is not only instantaneous, but it also avoids the internet, where most fraud occurs," says Kilb.
The first Boloro pilot involved cross-border purchases by U.S. troops in Afghanistan accessing 1-800-Flowers through a microsite to send bouquets to loved ones back home. Now that Boloro is becoming widely used across India, Africa, and the Middle East, Kilb plans to roll it out next in the Americas.
Because Boloro is all about licensing and developing intellectual property, Kilb says his years of experience as an IP lawyer have given him the perfect background to grow the company. "I've always been interested in IP, and my involvement with the Fordham Intellectual Property, Media & Entertainment Law Journal and the professors I had there for patents, trademarks, and copyrights all helped me to further my interest in those areas."
Kilb has kept close ties to Fordham; he's co-founder and chair of the Entrepreneurial Law Advisory Council, and he's an adjunct professor teaching Entrepreneurial Law. His advice for fellow attorneys who want to strike out on their own entrepreneurial venture? "Think about where technology is heading or should be heading," he says. "Couple that with your natural interest and expertise, and try to find the best possible fit for your skill set."