The Fordham Law community is saddened by the death of Professor Roger J. Goebel, who passed away on Friday, April 20. He was 82.
Born in Indianapolis, Professor Goebel earned his A.B. from Manhattan College in 1957, graduating as valedictorian of his class. He enrolled at New York University School of Law, earning his J.D. in 1960 and his LL.M. in comparative law in 1961. From 1961 to 1962, he was a Fulbright fellow at the University of Tübingen in Germany. From 1966 to 1983, he practiced international business law and French and American corporate law in the Paris and New York City offices of Coudert Brothers.
In 1984, he joined the Fordham Law community, where he served as professor for 33 years as an invaluable educator, colleague, and friend. As Alpin J. Cameron Professor of Law, he inspired students and colleagues alike with his prodigious knowledge of corporations, partnership and limited liability companies, and in particular European Union Law, which he taught and studied since 1978.
"We have all lost a good friend and a superb colleague whose contributions to us, our students, and our institution were immeasurable," said Dean Matthew Diller. "Roger was never shy about speaking his mind and, in a gentle way, pressing his views. He always spoke from the heart, informed by his tremendous learning and intellect. He devoted particular attention to nurturing the community of international students and scholars at Fordham Law."
In 1984 Professor Goebel created the Fordham Center on European Law, which fostered Fordham Law's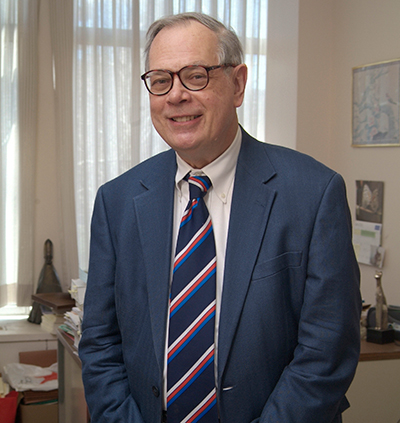 relationships with United States and European law schools. He was also instrumental in building and nurturing the School's LL.M. program, and he served as a mentor to the many international students who matriculated at Fordham due to his influence.
"Roger was a wonderful colleague," said former Dean John D. Feerick '61. "He was always available to meet with a student interested in an opportunity abroad, and he helped many a student network in the wider world where he had many friends. He was very loyal to the Law School and and all his colleagues. He gave fully to the community of Fordham and excelled as a teacher with large classes of students."
Showcasing his commitment to the field of EU law, Professor Goebel published extensively on the topic and other international legal matters. His book Cases and Materials on European Union Law, which he co-authored with Eleanor Fox, George Bermann, Jeffrey Atik, and Frank Emmert, is now in its fourth edition and remains a vital law school text. He also co-edited Rights, Liability and Ethics in International Legal Practice, now in its second edition, with the late Mary Daly. His work is widely read and respected in Europe. Many European academics first learned of Fordham Law School through Professor Goebel's work, making him one of the School's great ambassadors.
"Roger Goebel was one of the pioneering scholars of European Union law in the United States," said Gráinne de Búrca, Florence Ellinwood Allen Professor of Law at NYU Law and former Fordham Law professor. "He fostered EU law scholarship among generations of U.S. law students, and introduced the annual EU law issue of the Fordham International Law Journal, which is still eagerly awaited each year by lawyers and academics around the world. In addition to his distinction and commitment as a scholar and teacher, and his vast and deep knowledge of his field, Roger was also a true gentleman and a wonderful colleague. I was greatly privileged to be his colleague at Fordham for several years, and to benefit from his learning, friendship, and generosity."
Professor Goebel taught at various institutions across the United States, in Germany, and in France. He maintained various professional affiliations and roles, including president of the American Foreign Law Association (1997–2000); advisory board member of the American Law Institute, Restatement of Agency Third (1999–2003); editorial advisory board member of the Common Market Law Review (1991–present); and executive committee member of the American Society of Comparative Law (1997–2000).