To celebrate the launch of his new memoir, That Further Shore: A Memoir of Irish Roots and American Promise, Dean Emeritus and Norris Professor of Law John D. Feerick '61 was joined by Dean Matthew Diller on April 23 for a live-streamed conversation exploring his life and career.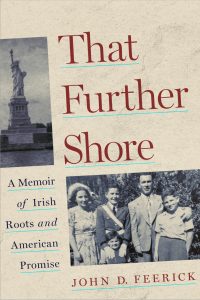 That Further Shore delves into Dean Feerick's upbringing as the eldest child to Irish immigrants in the South Bronx to practicing law, his landmark role in framing the U.S. Constitution's Twenty-Fifth Amendment, and his leadership as dean of Fordham Law for 18 years, among many other accomplishments.
During the talk, Dean Feerick explained that his late brother Donald had long encouraged him to write about their parents after both had passed away and after he visited Ireland for the first time in 1989. "In some sense, it was hard for me to accept the fact that they were gone … I wanted to bring them to life, and that became my principal motivation," Dean Feerick recalled. "But as I went along, I realized that I could not limit it to just my parents because their lives were about their children."
Read an excerpt from That Further Shore.