Fordham Law School's Class of 2022 gathered together one last time for the 115th diploma ceremony on May 23—marking the return of a full in-person commencement event in two years. Approximately 4,500 guests were in attendance at Fordham University's Rose Hill campus in the Bronx to celebrate the accomplishments of the 634 graduates—401 of whom received J.D. degrees, 61 of whom received M.S.L. online degrees, 12 of whom received M.S.L. degrees, 158 of whom received LL.M degrees, and two of whom received S.J.D. degrees.
Chief U.S. District Judge Laura Taylor Swain of the Southern District of New York served as this year's distinguished commencement speaker and received an honorary doctor of laws degree from the University. Judge Swain, who in 2021 became the second woman of color to serve as chief judge for the Southern District, was previously a law clerk for Judge Constance Baker Motley, the first woman of color to serve in the post.
In his welcoming remarks, Dean Matthew Diller reflected on the resilience of the graduates, whose law school experiences were rocked by the uncertainty and unusual circumstances of the COVID-19 pandemic. For full-time J.D. graduates in the Class of 2022, the onset of the pandemic arrived just eight months into the beginning of their law school journeys.
"This opportunity to bring our entire community together as one to celebrate [your accomplishments]is something we will never again take for granted," he said. "This is our time to take stock and reflect on what we have learned about our world and each other and envision the world to come."
Confidence and Inspiration
Dean Diller acknowledged the challenges we are facing as a society, including heightened political polarization, the rise of white supremacy and overt racism, and exacerbated inequities. He urged the graduates to face such contentious and urgent issues head-on and with confidence. "We will look to you for cogent advocacy that gives voice to those who would not otherwise be heard, for creative solutions to hard problems, and for empathy, compassion, and understanding," Dean Diller said. "The key is to make the most out of the things you can influence through your actions and your words."
In advance of the ceremony, Judge Swain met with an inspiring group of student leaders from the Class of 2022. The group included representatives from the evening division, the Fordham Law Review editorial board, and student affinity groups such as the Black Law Students Association, the Latin American Law Student Association, and OUTLaws. "When I asked the students what has been most meaningful to them about their experience at Fordham Law, they didn't focus on their individual achievements," she said. "Instead, and across the board, they spoke in terms of bonding with others, creating and strengthening community, learning to lead collaboratively, their joy at being able to advocate for their peers, and their experiences of mentoring and being mentored."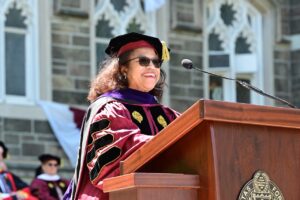 Judge Swain connected personally with these recurring themes of community and mentoring. "Hearing [from the students]invigorated my sense of gratitude for mentoring and for the work of trailblazing leaders who also took the time to touch my life," said Judge Swain. "Professors, judges, and fellow lawyers, whose leadership practices embraced other voices, prized mentoring, and aimed to enable others to develop and devote their talents to public service, opened doors for me."
She singled out two of her own mentors, Judge Motley and Harvard Law School Professor Derrick Bell, who had worked with Judge Motley at the NAACP, for their impact on her life. "They inspired me to pay forward their investment in me," she said.
Judge Swain urged the graduates to carry these values of mentorship throughout their professional lives. "Remember that you too can be inspiring examples as you go out into the world," she said. "Mentoring, regardless of where your professional work leads you, is an important responsibility of each of us as members of the legal profession. … Carry forward your leadership experience into confident work with mentors, colleagues, and mentees, help to lift up the voices and lives of the members of our broader community, and continue to shine."
A Fond Farewell to An Era
A bittersweet note to the day's celebration, the diploma ceremony was to be the last presided over by Joseph M. McShane, S.J., president of Fordham University. Father McShane announced in September that he would be stepping down from the position at the end of the academic year after nearly two decades of unparalleled service and leadership.
Father McShane urged the graduates to reflect on everything they had encountered during their time as law students. "This is the day you've been looking forward to with eager longing since the minute you entered the Law School," he said. "Savor this moment. It is a sweet moment, and you deserve a sweet moment."
He also highlighted that the profession to which the graduates have committed themselves is necessary—"perhaps more necessary now than it has ever been." "Yours is a profession that is noble, sacred, and necessary for our nation and its future," said Father McShane, echoing Dean Diller's earlier remarks. "Reflect on that. Embrace it."
"We need balance, civility, and discerning wisdom," he continued. "And where can we find people with those virtues, gifts, or qualities? Well … we turn to lawyers. We turn to you. We always have, we always do, we always will."
"Go forth now with what you have learned and be what you have formed to be—lawyers with a difference," he concluded. "Fordham lawyers."
Graduates and Faculty Recognized for Outstanding Accomplishments
After the speakers' remarks, Professor Kimani Paul-Emile announced the recipients of more than a dozen awards that recognized the graduates' academic achievements, public service, and competition victories.
The conferrals of four select awards were shared online the weekend prior to the in-person diploma ceremony, including the Dean's Medal of Recognition, the Eugene J. Keefe Award, the Teacher of the Year Award, and the Adjunct Teacher of the Year Award.
Up to the Challenge
As the graduates walked across the stage at Edwards Parade in their regalia to receive their diplomas, many wore grins, and some had tears in their eyes. As they were handed their diplomas, the graduates bumped elbows with the Dean—a tradition introduced during the pandemic. Nine graduates walked across the stage with their children who were born during their time in law school.
"The world awaits you now with big and complex challenges that can seem disorienting, dispiriting, and, yes, even terrifying," said Joseph Landau, associate dean for academic affairs, during his turn at the podium. "But one thing is for sure—if anyone out there is up for this challenge, it's you, our graduates. You are the future, and through your energy, your intellect, and your vision, you are going to guide us through the challenges we face."
Below are some scenes from the diploma ceremony: